Iconic Kiss Reenacted Ad Nauseum in Times Square
Public displays of unbridled smooching are now being encouraged in Times Square. Standing beneath a 26-foot sculpture modeled on the iconic photo of the American sailor kissing a nurse on the day known as V-J Day in 1945, visitors are already practicing the art of the kiss.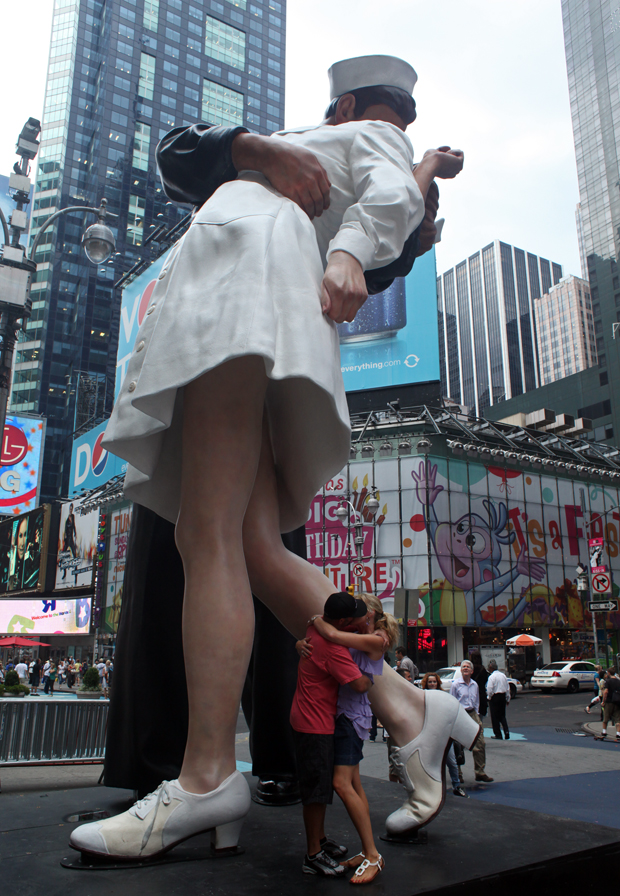 The sculpture, called "Unconditional Surrender," was trucked into Times Square at about 1:00 a.m. Thursday morning in two pieces from Hamiliton, N.J. It will be on display until next Monday in honor of the 65th anniversary of the end of World War II.
By 11:30 Thursday morning, one enthusiastic Times Square Alliance employee had already taken 45 photos of kissing couples.
The Times Square Alliance is hosting what they are calling the National Spirit of '45 Day, on Saturday, which will feature various events including a mass re-enactment of the famous kiss in Times Square.
The original photo was taken by Alfred Eisenstaedt on August 14, 1945, just after President Harry Truman announced the end of the war. It was published in Life Magazine a week later and came to embody a certain American spirit.
"One also can sense the evocation of powerful symbolic forms: the romantic swoon ritualized in classical ballet, ballroom dancing, and Hollywood film, as well as the exciting social turbulence and semiotic excess of the carnival," note two historians in the Journal of American History.
The image was used as the cover image in Life's anthology, "Decades of the 20th Century: Life: The Way We Were."
The Life photographer, Eisenstaedt, wrote that he was walking through Times Square on V-J Day when he noticed one sailor grabbing any woman he saw, old and young. A nurse was standing nearby, by herself, and Eisenstaedt focused his camera on her, hoping the sailor would kiss her too. He did of course, and Eisenstaedt snapped the image. He was shooting candid snapshots that day and never got either of their names, but in the 1970s Edith Shain came forward, claiming she was the woman. Shain died this June, and although several sailors have come forward, none has been credited as the kisser.