Watching the Freedom Tower Rise
First, let me say I'm having a hard time letting go of the moniker "Freedom tower," even though I know the replacement for the Twin Towers' new name is "One World Trade."   I was there when it was named, and I'll be there, I hope, when the 1776-foot tall tower is complete.
When the designs for the World Trade Center site were first unveiled, the Freedom Tower was an elegant needle pushing upwards, full of clear glass and leafy gardens, a thousand feet in the sky. At the time, I believed it would be that. And even the hokey name -- loved by Governor George Pataki, but no one else, seemed part of the aspiring piece of architecture that was the Freedom Tower.
After that annoucement came a series of bruising modifications that made the building blockier and more commercially viable, to be sure. Safer, also, the NYPD says. But somehow not the Olympic pole-vaulter, waiting to take a leap.
Along the way, the name "the Freedom Tower" was shed -- too off-putting, it was believed, for the international tenants that might occupy the building.
I visited Legoland in California last school vacation, where the tower is now part of that amusement park's New York skyline. To me, the building looked like a huge hulk. To my 8-year-old son -- with whom I was pregnant on September 11, 2001 -- it was a triumph. He can't stop telling me the actual edifice will be the tallest building in America, taller, even than Chicago's Sears Tower. When we drive down the West Side Highway, he can't contain his excitement, counting the stories that have been built since our last foray.
My last glimpse of the Twin Towers was from Fourth Avenue in Brooklyn. As smoke poured out of the upper stories, would-be straphangers, stranded when the R train was abruptly halted, stared in disbelief at the smouldering towers, punching away at their non-responding cell phones.
My first glimpse of the new tower was from the Brooklyn side of the Brooklyn bridge, a piece of blue tarp under a giant crane, nestled next to the elegant Seven World Trade, rebuilt years ago. As I've ridden my bike across the bridge this summer, the tarp has risen.  From the top of the bridge, I can now count ten stories. And like my son, full of anticipation, I watch as it continues to rise, watching its progress as it marches towards the sky.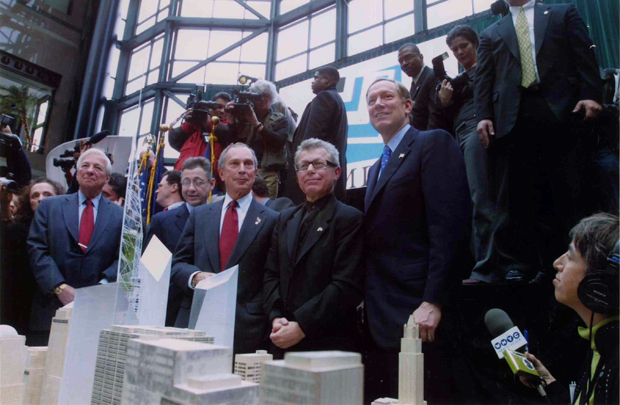 The announcement of the plans for the Freedom Tower, February 27, 2003. Mayor Bloomberg is in the center, with architect Daniel Libeskind and then-Governor Pataki. WNYC's Andrea Bernstein is in the lower right.