American Folk Museum Mired in Debt
It's no surprise that New York City museums are still struggling during this economic downturn. This week, The New York Times and Bloomberg report that the American Folk Art Museum is no exception.
The Folk Museum is reportedly in dire financial straits--unable to make upcoming payments on a $32 million bond it borrowed from the City's Trust for Capital Resources. The interest-free bond was granted to the museum to fund construction of its current building, located on 53rd street, down the block from MOMA.
The American Folk Museum isn't the only museum to experience financial difficulties in post-recession America. Non-profits of all types have had to scale back to match shrinking endowments and declining charitable giving. But the Folk Art Museum has also had to deal with difficulties bringing in museum goers – and their admission dollars – through the door.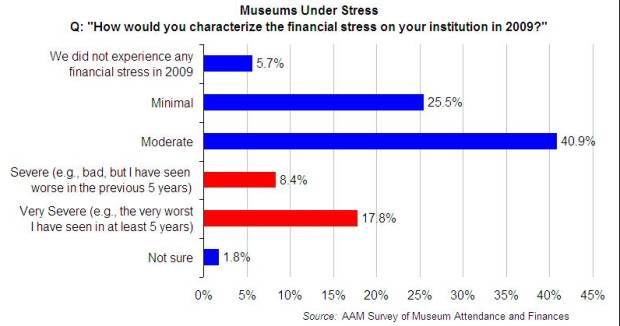 Attendance numbers have consistently fallen short of projections.  In 2005, the museum hoped to bring in 225,000 people and $1.7 in revenue. According to recent reports, only 160,000 visitors came to the museum in 2009. That earned the museum just $360,000.
"Museum attendance counts for very little, in terms of the overall revenue stream for museums. It's somewhere between 8 and 9 percent in a typical year,"says Dewey Blanton, of the American Association of Museums.
The association published a study in January, "Service Despite Stress: Museum Attendance and Funding in a Year of Recession." According to the study, 67 percent of museums polled experienced at least moderate financial stress since the recession began in 2008.
However, many museums in the study did report an increase in attendance. Some 57 percent of museums reported increases in attendance overall, and 15 percent reported "sizable increases" in attendance, which were defined as increases of over 20 percent or more. In July, the Museum of Modern Art reported that it broke its attendance records with 3.09 million visitors, thanks to the popularity of popular exhibits such as the Marina Abromovic retrospective and the art of Tim Burton.
"This is not uncommon" says Blanton. "We often see that increase in hard financial times. People are looking for affordable places for entertainment." He points out that the average museum entrance fee in the U.S. is $7. "Compare that to a ball game, or even a movie."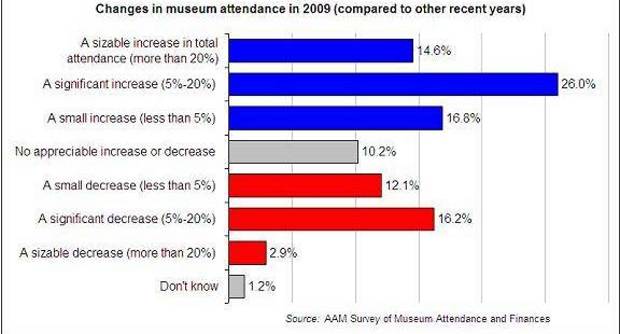 The study also found that museums which did not report increased attendance records were more likely to report moderate to extreme financial stress. So, while money earned from museum-goers is only a fraction of total museum budgets, it can be the straw that breaks the camel's back.
Blanton says it's no surprise that museums are having a hard time these days in a city that's packed with world-class art.
"The Folk Art Museum has suffered like all museums have suffered," says Blanton. "But those challenges are exasperated by the fact that it is in probably the most competitive museum market in the world, in New York City."