Music Hub
No Cover: Michael Rother and Friends Play the Music Of Neu!
German experimental musician and composer Michael Rother recruited Steve Shelley, of Sonic Youth, and Aaron Mullan, of Tall Firs, to form Hallogallo 2010, a group which is playing Neu!'s electronic rock music live for the first time in 35 years. Rother and friends recently performed at the Lincoln Center Out of Doors festival.
This concert was mixed by Bill Bowen.
Before You Press Play:
Hometown: Dusseldorf, Germany
The Facts: After playing with the group Kraftwerk in the early-1970s, Guitarist and Knob-twiddler Michael Rother and drummer Klaus Dinger formed the electronic rock band Neu! in Dusseldorf, Germany in 1972. The duo released three influential albums between 1972 and 1975 with producer Conny Plank before parting ways. Rother formed the band Harmonia with Cluster's Hans-Joachim Roedelius and Dieter Moebius and embarked on a solo career. Dinger started the group La Dusseldorf.
Neu! regrouped in the mid-'80s but failed to complete another album. Klaus Dinger passed away in 2008, and Rother began work on the new Neu! box set, which includes unreleased mid-'80s material and a rare live recording. This rather cathartic process led Rother to recruit Steve Shelley (Sonic Youth) and Aaron Mullan (Tall Firs) to form Hallogallo 2010! (which is the opening song from Neu!'s 1972 debut) to play Neu!'s music live for the first time in 35 years.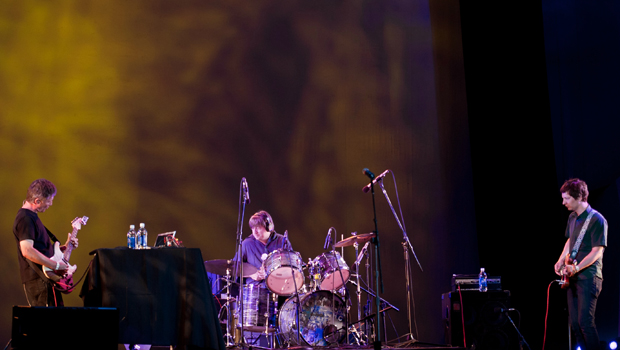 Michael Rother, drummer Steve Shelley and bassist Aaron Mullan perform the music of Neu! at Lincoln Center on August 6. (c)Kevin Yatarola.
The Sound: Neu!'s sound is built around a relentless driving 4/4 beat known as the motorik (the literal translation is "motor skill"), the aural equivalent of euphorically speeding down the Autobahn. Atop this hypnotic and eminently danceable beat floats Rother's heavily processed guitar and ambient electronics that sound like a rocket ship bound for the astral plane, a water drip or tape loops backward.
The hour-long Lincoln Center set opened with the never-before-released "Hallogallo 2010," its warm swirling engine sounds twisting around Rother's soaring prog rock guitar lines. The random samples on the intro to "Neutronics 98" (12:40) and "Veteranissimo" (40:15) wouldn't sound out of place on an Aphex Twin album, or perhaps his music wouldn't sound out of place on a Neu! record.
Michael Rother thanks the wildly appreciative Lincoln Center audience (49:16) only to be answered by a mysterious spectral electronic sound (Dinger perhaps?) just before launching into one of the set's highlights--the ecstatic "Dino" (50:27), which prompted throngs of rapturous dancers to rush past the guards and boogie away the rest of the set in the bandshell's orchestra pit.
Latest Release: NEU! Vinyl Box Set, (Gronland Records) May, 2010.
He Said, She Said: Neu!'s music channeled the improvisations of psychedelia through rigorous Minimalistic constraints: an unswerving beat, limited harmonies and determinedly terse melodies. The music was repetitive but never mechanical, ramming itself against its own rules, and the human muscle of Hallogallo's rhythm section made "Hallogallo" and "Dino" more triumphant, "Veteranissimo" more heated and hypnotic. The music's confines only made it more concentrated. -- Jon Pareles, New York Times, August 9, 2010
"Krautrock was a rather derogatory term or at best ambivalent at first," Rother says from Brooklyn in an interview via Skype. "But now around the world, I see it used to describe all the music that came out of Germany in the late '60s and early '70s, and it's not used in a derogatory sense at all. But all those bands were very, very different. It's a label more about a time and a place, whereas motorik is one specific type of sound, like the fast-forward sound." -- Steve Klinge, The Philadelphia Inquirer, August 6, 2010
Set List:
1. Hallogallo 2010 (Unreleased)
2. Neutronics 98 (A Tribute to Conny Plank)
3. Aroma Club B3
4. Deluxe
5. Veteranissimo
6. Dino