Cricket Lives On at Staten Island's Walker Park
Bring up the borough of Staten Island and several things come to mind: a ferry ride, the Fresh Kills Landfill or maybe the hip-hop group Wu-Tang Clan. But few people think of Staten Island as synonymous with a 22-yard pitch of sand in the borough's Walker Park, home to the oldest running cricket club in the U.S.
To cricketer Clarence Modeste, Walker Park is huge. Modeste moved to the Big Apple in 1961 from Tobago and Trinidad, and heard about Staten Island's cricket club through a friend. Now, at age 80, he's hit balls and bowled here for 50 years, and is the proud president of the Staten Island Cricket Club (SICC). Today, he gives the history of the club as he watches a friendly cricket game in the park. He ticks off a list of all the countries where the English brought their bats, wickets and bowling: his native Tobago and Trinidad; Guyana, Jamaica and Ireland and today's cricket powerhouses India, Pakistan, Sri Lanka, Australia and Canada.
"The British came and they brought their sports with them," Modeste says in a smooth, polished voice that has just a hint of his British Caribbean accent. "They did that wherever they went, around the world."
Modeste pauses to take in what's going on at the cricket pitch, a long thin strip of clay covered with a jute mat where the bowler delivers balls to the batsman.
"You can't bowl straight with that," says one of the fielders, holding up the game's signature red leather ball. He throws it back to the bowler, Nittin Rai, who had just curved the ball past a solid South Asian batsman in full leg and body padding and a hard-headed helmet.
"It's too light," says Rai, the club's only Chinese-Indian player, referring to the weight of the ball he's bowling with. He later says me he learned to play cricket at age 6 in India's Sikkim region because there "every boy either wants to be a cricketer or a Bollywood actor."
Rai heads back to his end of the pitch, turns around and stands in front of the wicket, or three knee-high wooden stumps connected with bails set in the ground. He sizes up the batsman, and then heads straight at him, sprinting, and without bending his elbow, delivers an overarm looping pitch. Just as quickly as it leaves Rai's hand, the batsman's wooden cricket bat makes contact with the ball's single seam and hooks it left. The ball, which looks a little bigger than a baseball but feels harder, sails into the trees above before thudding to the ground. A seven-year-old in a blue India cricket jersey runs to get it and throws it back to Rai.
"That was a nice one," Modeste says approvingly, and continues telling me the club's history as he knows it.
The Staten Island Cricket Club was founded by wealthy "Wall Street types" in Staten Island in 1872, and played its first cricket game on these grounds – then known as Livingston Park – on July 7, 1886. (The park became Walker Park in 1934 in honor of the cricketer and World War I lieutenant, Randolph Walker, Jr.) The club's largely British members brought in international stars to play on the park's grounds. English cricket legends W.G. Grace, Colin Blythe and Geoffrey Boycott have bowled and batted here, and so did Indian prince K.S. Ranjitsinhji XI, Bajan cricketers Sir Everton Weekes and Sir Garfield Sobers, and Australian cricket legends Sir Donald "The Don" Bradman and Allan Border. The park has also hosted international cricket matches with teams from England, Canada, Australia, Ireland, Pakistan, New Zealand and the Caribbean.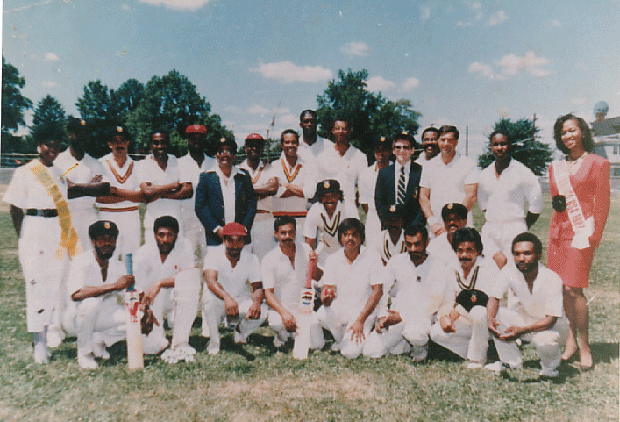 Archival image courtesy of the Staten Island Cricket Club
"When I joined the club in 1961, the club was all white, all English, well-to-do traders," Modeste says. Modeste did not then fit in with the other members, not being white, and working as a manager in the radiology and biotech branches of New York Presbyterian Hospital uptown. When he joined the cricket club, Modeste says it was slowly integrating. "It's changed a lot over the years."
Walker Park was also different. It was more than five acres of green then, not hemmed in by the rows of neat houses as it is now, or jammed into just a city block in between Delafield Place, Bard Avenue, Davis Avenue and Livingston Court. The changes came after New York City purchased the park in the 1920s. The city also added a playground and a baseball field which, rather inconveniently, shares its center field with the cricket field pitch. Next to the pitch, couples can hit tennis balls on hard courts surrounded by chain link fence where lawn tennis courts once sat in the late 1800s.
But the biggest change Modeste has seen may be in the make-up of the team's squad. "Including our overseas members, we now have 10 percent White English players. The rest of the club is a mixture of Trinidadians, Jamaicans, Pakistanis, Indians, Sri Lankans, Guyanese, etc," he says.
The club's diversity is one of the reasons that Nittin Rai, who is a 24-year-old M.F.A. Creative Writing student at New York University, says he chose Staten Island's club over the whiter, more Anglo Mad Dogs cricket team from Greenwich, Connecticut. "It's one of the only clubs that has players from all the test player nations. That's how it should be," Rai says taking a drag from his cigarette.
The Test Player nations Rai is referring to are teams that The International Cricket Council deems the world's best. Ten country's teams currently have the status, including India, Pakistan, Sri Lanka, Bangladesh, Australia and, of course, England. Test teams compete in test matches, which are games that last for up to five days—and come complete with lunch and tea breaks. Test matches have four innings, while most pro cricket matches have two innings, and don't last longer than a day. The latter non-test match play is called Limited Overs or Twenty20 cricket. Limited Overs games, or one-day cricket, have a set number of overs, as do Twenty20 matches. An over is a set of six consecutive pitches, and in most Limited Overs play, once a team has pitched 50 overs to a team's batsmen, the game is finished. In Twenty20 games, teams bat one inning each and try to get as many runs as possible during their innings until 20 overs have been bowled. The team fielding tries to limit the number of runs. The team to get the most runs at the end of the overs wins the game. Each squad has a team of 11 players.
Today at Warner Park, the Staten Island Cricket Club hopes 22 players will show up to play a game of 25 or 30 overs. One player, Habibur Rehman, isn't on the pitch today because his body is in bad shape. He got into a bad accident last November when another car slammed into the driver's side of his yellow cab in Manhattan.
"You have to be physically fit before you get into the game," Rehman, 44, tells me over the phone. He moved to Midwood, Brooklyn from Pakistan's Punjab region after tenth grade and joined the Staten Island club in the '80s after he heard about it from his boss. "It's also a mind game as well. You have to stay calm, cool, collected. Also, respect the game alongside the umpires who are officiating the games and the team playing against you."
Looking at the pitch, you can see where serious physical fitness comes into play. Hand-eye-coordination is required as is endurance to withstand long games. Quick reaction time and nimbleness are another must for quick fielding, and players must be alert at all times. Bowlers have been known to kill batsmen without helmets on contact because the ball travels hard and fast.
One day, Rehman hopes his son will play in cricket league games like he used to before the accident. Leagues all over the Northeast play cricket matches on Sundays, as does the SICC's first XI, the club's best eleven players in New York City Metropolitan League competitions. For league play, the cabbie says the Brooklyn-Staten Island commute is worth it, even if it means traversing bridges or braving weekend trains, ferries and buses to get there. 
The club's captain, Shaffikul "Shaffy" Sackroolar, learned how to play cricket in Trinidad. He now owns an auto finishing shop in Jersey City and has been a member of the SICC squad since the '80s. Sackroolar says he thinks other immigrants from cricket-playing countries will happily make the trek out to Staten Island, too.
"When they come to the U.S., when they see our club, they want to play for us," he says. "And right away they'll fit in, you know?"
The racial make-up of the Staten Island Cricket Club may have changed in the 138 years since the club was founded, but the club's president admits there is still plenty of work to be done as far as gender parity. There are no female players on the field today, save a few of the player's daughters or sisters jamming out to music on their iPods by the tennis courts. Modeste, who has just changed into cricket whites for today's friendly game, says the club's working on that by starting a program to recruit women and youth to the pitch.
Now, "they are the future," he says, jogging out to the field.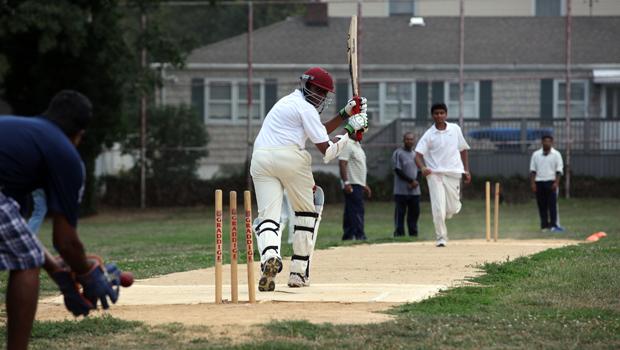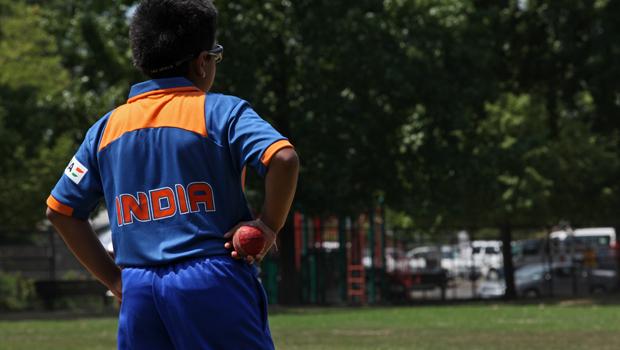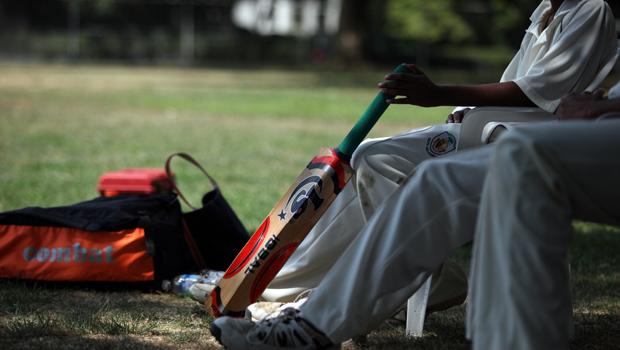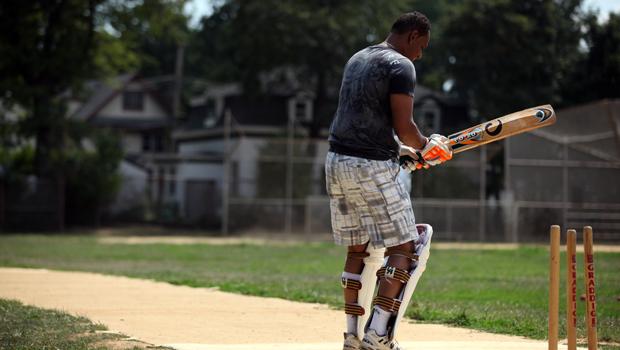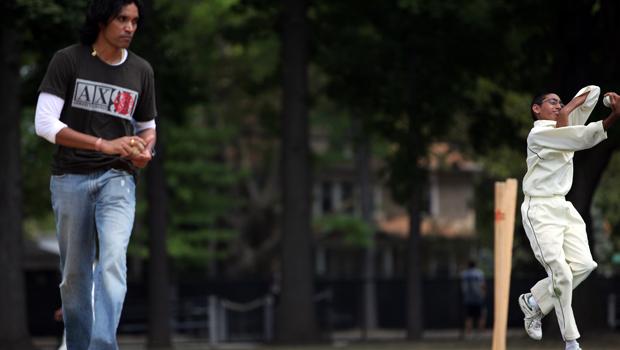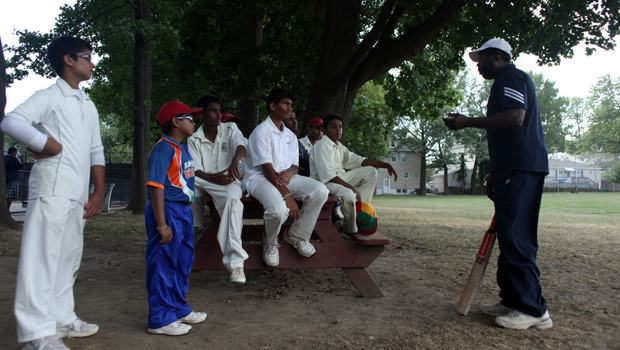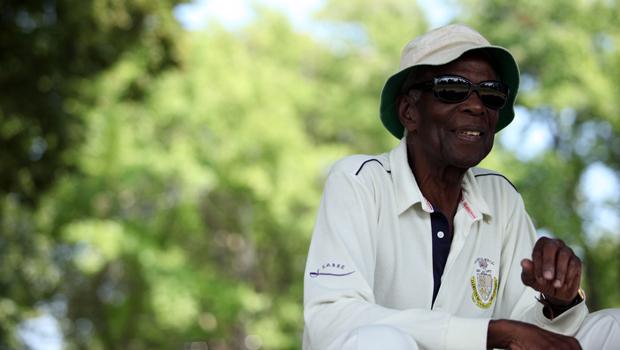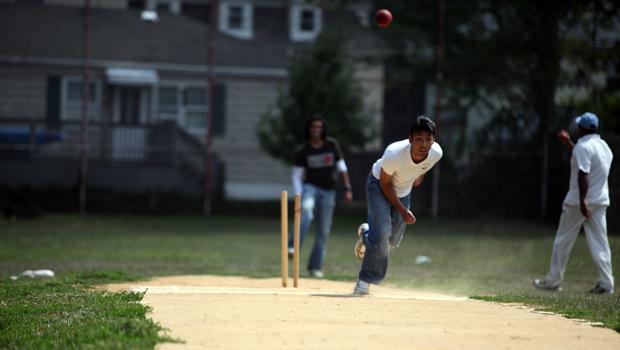 of