Hidden City: The Sounds of Brighton Beach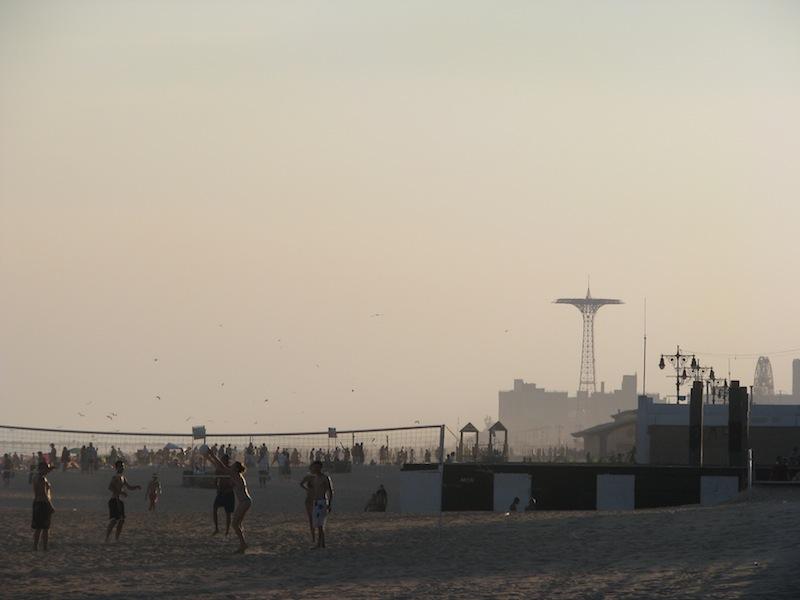 It isn't the average walking tour that asks you to observe silence for 90 minutes straight. Or pick up trash in a small park. Or listen to the rattle and hum of air conditioners while walking down entire city blocks with your eyes closed.
But we're not on an average walking tour at all. We're on an artist-designed soundwalk with Todd Shalom of the performance group Elastic City. Our group's mission is to observe the sounds all around us, make note of them and on a couple of occasions,  produce sounds of our own. (The latter exercise results in a great deal of clucking and popping noises — to the chagrin of the old Ukrainian men chilling out in Brighton's Babi Yar Triangle.)
The walk is part of a callout we did at the station last month, in which eight WNYC listeners — Deirdre, Craig, Meral, James, Patrick, Stephanie, Abigail and Christian — joined us to experience an aspect of the city that so many of us work hard to forget, be it the roar of garbage trucks or the echo of a neighbor's too-loud television set.
Shalom guides us through a variety of listening exercises that leave us attuned to our environment. Colors come into sharp focus. Smells intensify — be it garbage or simmering garlic. We become accutely aware of the squeals of the elevated subways in the distance, which give off an industrial-musical note. By the end of the walk, we all realize that almost every aspect of urban life is set to an inescapable thrum of air conditioning.
The most poignant moment, however, comes early on: At one point we find ourselves inadvertently surrounding a blind man who is going on about his business on Brighton Beach Boulevard. Our artistic experiment is, for some, a way of life.
For more information on Elastic City's artist-led walks, logon to the group's website.