Up Close and Personal with Dinosaurs
Visitors to the Natural History Museum will now be able to get a better view of the meat-eating Allosaurus with its big fangs and sharp claws, poised to strike at a lumbering Barosaurus reared up on its hind legs in defense.
Since 1990, this mise-en-scene has been mounted on a platform and cordoned off from the public with metal gates. Starting Wednesday, part of that platform is being cut away so visitors can walk directly into the primordial battle.
The Theodore Roosevelt Rotunda -- a room in the American Museum of Natural History as big as a cathedral -- is home to the replica skeletons depicting life in Western North America 100 million years ago.
"We wanted to open up the space a little bit and give people a little bit of a different view of the animals than they'd ever seen before," says Mark Norell, chairman of the division of paleontology at the museum. "Before you could stand under it and look up, but kind of walking through and being the referee between the two of them will be a pretty cool experience."
Museum representatives say once it's completed in six weeks, the eight-foot wide path will encourage visitors to look at the primeval creatures from new angles. And there's certainly a lot to see. The Barosaurus alone is 75-feet long. The trunk of its body (without the long tail and neck) is larger than a full-grown African elephant.
Museum-goers seem to agree that it will be a thrilling, educational experience to get into the fray.
"When I do school groups, for example, at my school, it's really, really important for them to be able to interact with the fossils," says Ron Lindsay, who has taught children and high-schoolers about dinosaurs.
Lindsay, who calls the walkway "fantastic," says young children sometimes lick the fossils, which according to him is OK. After all, that's what paleontologists do in the field.
"You'll wet your finger, and you'll touch the fossil. Depending on how quickly it absorbs it, you'll know what you need to stabilize the fossil," Lindsay says.
Tatjana Newman had a similar, if less toothsome, thought about the new layout.
"I think that's great because the children and everybody will be able to see the bones and the structure from a different perspective. And there's even more opportunity to learn," Newman says.
Standing between the dinosaurs, a worker used an electric saw to buzz through the plywood and fiberglass platform, which is an actual impression of the Badlands in South Dakota, circa 1989.
It was a delicate process. The Barosaurus had its neck lassoed to the ceiling of the rotunda and its body supported by scaffolding to minimize the shaking caused by the saw.
Despite the hope that the new design would better engage visitors, some onlookers were not thrilled with the change.
"I think it's working pretty well the way it is," says Ron Tarablous, a New York City tour guide who has been coming to the museum for 35 years. "Why should they do that?"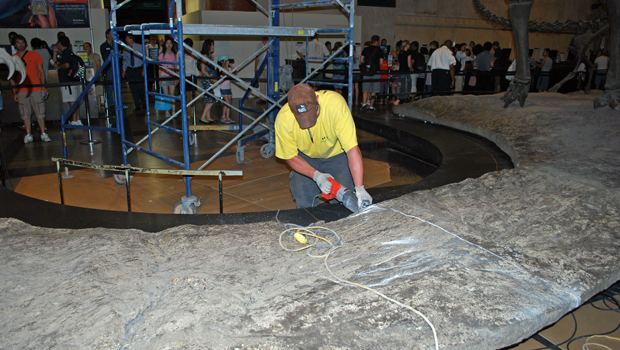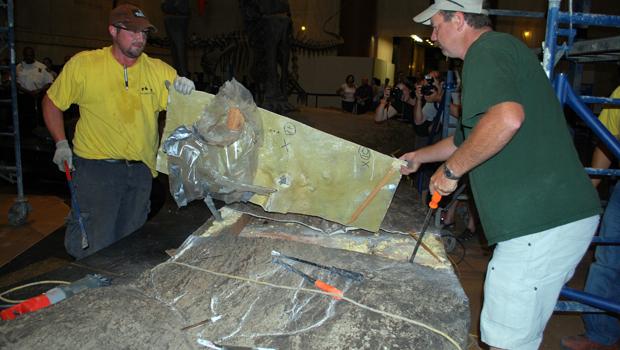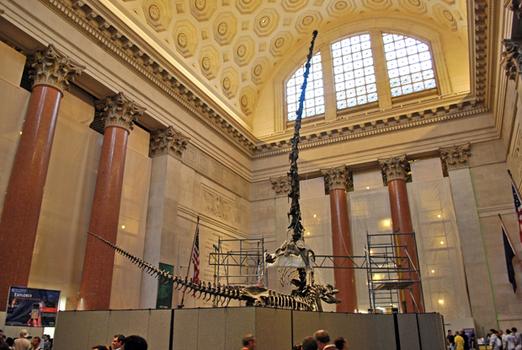 of