Community Garden Advocates Rally at City Hall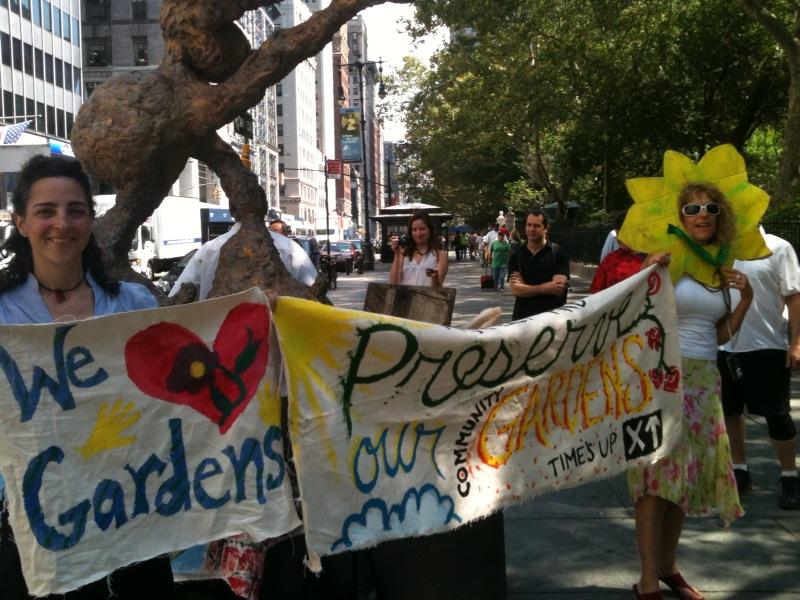 Advocates for New York City's community gardens delivered fresh produce to the steps of city hall Monday.  They delivered the fruits and vegetables in protest over the expiration of the Garden Settlement of 2002, which protected community gardens from real estate developers.  The temporary provisions expire next month.
"We're here today because we love the community gardens, and we have a simple message for New York City: Protect and preserve the community gardens for our children and for our children's children," says Benjamin Shepard, a volunteer with Time's Up!, an environmental group seeking increased protections for the gardens.
There are over 600 working community gardens in New York. Some are managed by the Parks Department, and a small number are overseen by the Department of Housing Preservation and Development.
"Mayor Bloomberg has done a great job articulating a vision of green New York City," Shepard says.  "A green New York City will reduce global warming, and will be a model global city. The simplest way to keep New York City green is to preserve the community gardens."
The Parks Department said in a statement that the new rules are intended to protect the gardens when the current temporary agreement ends. A public hearing is scheduled for next Tuesday, August 10, at the Chelsea Recreation Center.