New York City's northern-most borough isn't called the Boogie-Down Bronx for nothing. From hip-hop to salsa to funk to doo wop to rock to folk, the borough is packed with musical talent. We had to make some serious calls about which BX-born musicians would make the cut for our "Boogie-Down Mixtape."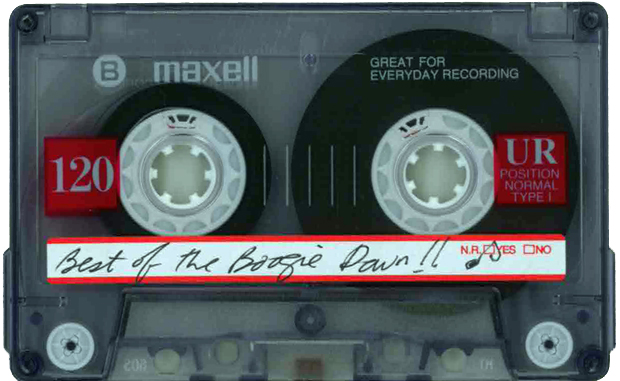 Side A
Track 1: "Cockles & Mussels" by Dennis Day (1957) – The late Irish-American tenor and radio personality Owen Patrick Eugene McNulty was born in the Bronx in 1916. Dubbed "America's Favorite Irish Tenor," McNulty attended Manhattan College in the Bronx and had his first radio appearance on Jack Benny's show in 1939. He was 21. McNulty changed his name to Dennis Day and got his own radio show in 1946, "A Day in the Life of Dennis Day." Before he died of Lou Gehrig's Disease in 1988, Day, his wife and 10 of his children settled in Los Angeles where he reportedly was known as the honorary mayor of Mandeville Canyon. At right, check out a video of Day performing "The Moonshiner" for "The Jack Benny Program."
Track 2: "I Wonder Why" by Dion & The Belmonts (1958) - You need to drink a milkshake and eat a grilled cheese while listening to this song from the 1950s doo-wop group, Dion & The Belmonts, made up of Fred Milano, Angelo D'Aleo, Carlo Mastrangelo, and Nick Caruso. The group took its name from the Bronx's Belmont Avenue. Dion DiMucci reportedly turned down a ticket on a flight with Buddy Holly, Ritchie Valens and The Big Bopper because it was too expensive; that was the plane that tragically crashed in 1959.
Track 3: "Dream Lover" by Bobby Darin (1959) – Two-time Grammy Award winning pop star Walden Robert Perciville Cassotto was born in 1936 in the Bronx into a working class Italian family. He sang, acted, and played the drums, keyboards, guitar, xylophone and harmonica. His boyish crooning guy-next-door voice may have gotten him the hand of actress Sandra Dee, who he met on the set of "Come September" and subsequently married in 1961. "Dream Lover," which features Brooklynite Neal Sedaka on the keys, became a bestseller when he made it in 1959.
Track 4: "Fly Me To The Moon" by Eydie Gormé (1961) – Singer Eydie Gormé was born in the Bronx in 1931 to Sephardic Jewish immigrants. Gormé graduated from William Howard Taft High in the South Bronx and worked for the United Nations before getting her big break as a pop star on "The Tonight Show." She also met her husband, Steve Lawrence, on the show; she not only married him, she went on to perform with him, too. Gormé is the proud owner of a Grammy and an Oscar for her charming vocals in front of a big band sound.
Track 5: "He's So Fine" by The Chiffons (1963) - You can almost picture Judy Craig, Patricia Bennett, Barbara Lee and Sylvia Peterson snapping their fingers and singing "doo-lang, doo-lang" in Soundview's James Monroe High School lunch room in 1960. They were the members of this all female doo-wop group from the South Bronx. "He's So Fine" shot to No. 1 for four weeks in 1963, and the album sold more than a million copies. We couldn't find the video for that one, but check out "Nobody Knows What's Goin On" to the right.
Track 6: "Wedding Bell Blues" by Laura Nyro (1966) – The late pop singer songwriter Laura Nigro was born in the Bronx in 1947. She taught herself piano as a child and composed her first song at age 8. Although other musicians covering her songs, including Barbra Streisand, Peter, Paul & Mary and Carole King, made many of her songs famous in the late '60s and '70s, Nyro's originals were soulful blends of pop, folk and classic girl group sounds.
Track 7: "Vamonos Pal Monte" by Eddie Palmieri (1971) – The late Charlie Palmieri and his younger brother, Eddie, are Puerto Rican-American bandleaders known for artfully blending jazz and salsa with Latin beats. Born in the Bronx in 1927 and 1936, the Palmieri brothers attended P.S. 52 on Kelly Street in Woodstock. (Former Secretary of State Colin Powell attended the same school.) Both were renowned for their piano skills: Charlie was known by the nickname "the Giant of the Keyboards," and Eddie has his first Carnegie Hall show at the ripe old age of 11. In this video, Eddie and Charlie are both playing the keys.
Track 8: "You're So Vain" by Carly Simon (1972) – Singer songwriter Carly Simon was born and raised in the Riverdale section of the Bronx. She attended Riverdale Country School before her folky rock-and-roll songs became smash hits in the '70s. "You're So Vain" is perhaps her best known song. It was produced in 1972, then hit No. 1 on the charts and sold over a million copies. It's still a matter of debate as to whom the song's lyrics refer to: "You're so vain/I bet you think this song is about you."
Track 9: "The Message" by Grandmaster Flash and The Furious Five (1982) – The old school hip-hop crew Grandmaster Flash and The Fabulous Five were formed in the South Bronx in 1978. All of its members are born in the Bronx except Grandmaster Flash, a.k.a. Joseph Sadler, who was born in Barbados but grew up in the Bronx. (He went to Woodstock's Samuel Gompers High.) The Fabulous Five were Cowboy (Keith Wiggins; he claimed that he coined the term "Hip-Hop" when he was scatting the words hip/hop/hip/hop in reference to Army soldiers marching), Grandmaster Melle Mel (Melvin Glover), Kidd Creole (Nathaniel Glover), Raheim (Guy Todd Williams) and Scorpio (Eddie Morris). Melle Mel is the main rapper in "The Message," which came out in 1982 on the label Sugarhill Records. The song is packed with catchy rhymes about how the Boogie Down looked back in the day.
Side B
Track 10: "Planet Rock" by Afrika Bambaataa & the Soulsonic Force (1982) - DJ Afrika Bambaataa Aasim (named after the South African Zulu chief Bhambatha) grew up in the Bronx River Projects in Soundview. During the early '70s, he was one of the heads of the Bronx Black Spades gang, which he turned into the non-violent hip-hop group the (Universal) Zulu Nation. In ("Rock, Rock") Planet Rock, Bambaataa samples an electronic sound from the band Kraftwerk and blends it with funky rhythms and words. Famous Bronx MCs in the Zulu Nation include Busy Bee Starski (David Parker), Grandmaster Melle Mel of the Furious Five (Melvin Glover) and Kool DJ AJ; Bambaataa also led the Soulsonic Force and performed with Soundview hip-hop group The Jazzy Five.
Track 11: "Basketball Throwdown" by The Cold Crush Brothers vs. Fantastic Freaks (1983) – Hip-Hop DJ Tony Tone founded the old school hip-hop group The Cold Crush Brothers in 1979 in the Bronx, with Easy A.D., DJ Charlie Chase, Whipper Whip, Mr. Tee, and Dot-A-Rock. Grandmaster Caz, (also known as Casanova Fly), Almighty Kay Gee and J.D.L. Money Ray (Eric Hoskins) joined the group in the '80s. The Cold Crush Brothers "Oh My God" lyric has been sampled by Doug E. Fresh and the Get Fresh Crew, and the group got in famously fierce lyrical battles with The Fantastic Freaks (Waterbed Kevie Kev, Prince Whipper Whip, Ruby Dee, Dot-a-Rock, Master Rob, DJ Grand Wizzard Theodore) and The Fantastic Five.
Track 12: "(Hey You) The Rock Steady Crew" by The Rock Steady Crew (1983) - The Rock Steady Crew was a 46-member hip-hop and b-boying or breaking group which was started in the South Bronx in the late '70s. Its members included British-Jamaican rapper Slick Rick, DJ P, Ken Swift, Crazy Legs and Frosty Freeze. "Hey You" was the group's first and most popular single.
Track 13: "Still Not a Player" by Big Pun (1998) – The late Puerto Rican-American MC Christopher Rios, or the Big Punisher, was born in the South Bronx. He began rapping in the '90s and had a short career before he died of a heart attack in 2000 at 28. Big Pun broke into the commercial hip-hop biz by appearing on Bronx rapper Fat Joe's Jealous Ones Envy. He mentored rapper Remy Ma and was a member of Fat Joe's Terror Squad crew. "Still Not a Player," which was produced in 1998, was on the album Capital Punishment, and became the first album by a solo Latino artist to go platinum. There is a mural dedicated to him in the South Bronx at Rogers Place, between 163 Street and Westchester Avenue.
Track 14: "Love Don't Cost A Thing" by J.Lo. (2000) – Jennifer Lopez was born in the Castle Hill section of the Bronx in 1969. She went to Preston High School. Lopez began her career in entertainment as a fly girl on the early '90s TV Show "In Living Color." Then she was a back-up dancer for Janet Jackson. Her debut album was On the 6, a shout-out to the Subway line she rode home to the Bronx. Forbes magazine has called "Jenny from the Block" the richest person of Latin American descent in Hollywood.
Track 15: "Lean Back" by the Terror Squad (featuring Fat Joe and Remy Ma) (2004) – Rapper Fat Joe (Joseph Cartagena) was born in the Bronx in 1970. In 1992, he formed Terror Squad Entertainment, which became the group Terror Squad in 1998. Rapper Remy Ma (Reminisce Smith), who was born in the Bronx's Castle Hill neighborhood in 1981, rapped with Fat Joe on the Terror Squad hit "Lean Back." Ma got a Grammy nomination from it.
Track 16: "Be Without You" by Mary J. Blige (2004) - R&B singer songwriter Mary Jane Blige was born in the Bronx in 1971. Although she grew up in Georgia and Yonkers, NY, the Bronx still claims her nine Grammy awards as their own. She started her soulful singing career at age 17.
Track 17: "We Fly High" by Jim Jones (2006) – Rapper Joseph Guillermo Jones II was born in 1976 in the Tremont section of the Bronx (at 176th and Jerome Avenue) but was raised in Harlem. His feel good 2006 hip-hop anthem "We Fly High" will keep you out dancing – and shouting the chorus – till late.
Track 18: "La Murga" by Willie Colón (2010) – Puerto Rican-American composer and trombonist Willie Colón was born in the South Bronx in 1950. He put out dozens of albums that blend salsa, rock and jazz—reflecting the Bronx's Caribbean, Latino and African diaspora. Colón is a civil rights activist who also ran for New York City Public Advocate in 2001. "La Murga" is about popular musical theater; it makes you want to get out and dance the salsa.
Bonus Tracks
Bonus Track 1: "Mi Carreta (My Way)" by Johnny Pacheco (1958 - 1964) – Dominican-American musician and bandleader Johnny Pacheco was born in the D.R. His parents brought his family to the Bronx in the 1940s when he was 11 years old. He is reported as having this to say about his BX neighborhood: "There were five of us, a sister and four brothers and we had to kick ass to survive. There was a little street gang. Once they saw you weren't chicken, you became part of the thing." Pacheco played the accordion, flute, violin, saxophone and clarinet; you can hear his fingers go at it on the flute in "Mi Carreta," a mix of salsa, jazz and funk.
Bonus Track 2: "The Merry-Go-Round" by DJ Kool Herc (1983) – Jamaican-American DJ Clive Campbell was born in Kingston, Jamaica in 1955. In 1967, his family moved him and his five brothers and sisters to 1520 Sedgwick Avenue in the Morris Heights section of the Bronx. He attended the Alfred E. Smith Career and Technical Education High School and became Kool Herc when he joined the Ex-Vandals graffiti crew. In the early '70s, he began to host parties in their building with one of the first known soundsystems: two turntables and a guitar amplifier. In what he called "The Merry-Go-Round," Kool Herc played James Brown's "Give It Up or Turnit A Loose" and then switched to a break on "Bongo Rock" by The Incredible Bongo Band and then to "The Mexican" by the band Babe Ruth. Herc continued to play in the Bronx, including at the Twilight Zone club, the Havelo club, the Executive Playhouse club, and the PAL on 183rd Street. He began DJing with Grandmaster Flash in 1975.
What would YOU put on your Boogie-Down Mixtape? Please let us know by posting a comment below!
Bonus Track 3: "Solid" by Ashford & Simpson (1984) – Bronx-born singer and songwriter Valerie Simpson makes up at least half of the soul R&B duo "Ashford & Simpson." (Valerie's husband from South Carolina, Nickolas Ashford, is the rest of the group.) After they joined Motown records in the '60s, they wrote and performed hit after hit, including "Ain't No Mountain High Enough," "You're All I Need to Get By," and "Ain't Nothing Like the Real Thing." Despite this lyrical prowess, Ashford & Simpson is probably best known for its 1984 smash "Solid" (as a rock) – check out the video at right.