Small Business the Focus of Obama's Trip to Edison, NJ
President Barack Obama will visit New Jersey on Wednesday to talk about small businesses and the economy before traveling to New York City where he will attend two private, Democratic fundraisers before returning to Washington.
WNYC's Bob Hennelly is in New Jersey and is sending dispatches from the scene.
12:25 p.m.
Crowds of well wishers continue to build around the entire locked down perimeter in Edison. Tanesha Lyles brought her two young sons Joshua and Emmanuel all the way from Elizabeth. She was disappointed that she was being pushed so far back from her earlier vantage point.
"We wanted a good look at the President we voted to get into office. We just can't get a simple glimspe of him. It's unfair we  have to go blocks down where we won't even be able to see the color of the car he is getting out of."
Lyles said her sons were disappointed. As far as mid-term grade for the President, "Out of one to ten? I'd give him a 7.5."
12:09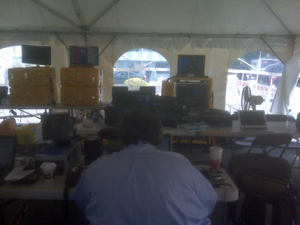 Inside the White House Press Tent with a bird's eye view of the Tastee Subshop.
11:39 a.m.
Hundreds of supporters and dozens of Tea Party protestors were pushed back two blocks from the scene of President Obama's meeting with small business owners at the Tastee Sub Shop.
Across the street in the Burger King parking lot, a White House press tent is roughly the size of the Tastee Shop. Inside Burger King there are no empty seats as Obama supporters have figured out this is the only way they are going to see "their President."
11:00 a.m.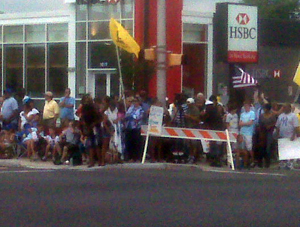 Hundreds of well-wishers in Edison, NJ, await President Obama's arrival at the Tastee Sub Shop, a local institution, where he will discuss how best to jump start the stalled economy for small businesses.
Also well-represented in the crowd are Tea Party activists, displaying the Yellow Revolutionary War-era "Don't Tread On Me" flag (pictured above). They are here to express support for their congressional candidate Anna Little, who upset the Republican pick in the June GOP primary. Little will face Democratic veteran Congressman Frank Pallone in November.

Middlesex County voted overwhelmingly for President Obama in 2008, but Republican Governor Chris Christie carried the county just a year latter.
2:15 p.m.