Waxing with the Goddess Minerva: Volunteers Clean Famed Brooklyn Statue
Perched at Brooklyn's highest natural point (200 ft. above sea level) in Green-Wood cemetery, the Roman Goddess Minerva received a fresh waxing Tuesday morning, courtesy of a few French volunteers (and one American).
"I know that when I'm back in France I'll tell everybody that I know that there's this great cemetary and this great statue," said Ines Reulet, 21 from France, one of six volunteers in New York for the next two weeks with the Preservation Volunteers of America program.
Reulet says she wanted to discover something other than France's castles this summer. She and the other volunteers spent the morning applying fresh coats of wax to Minerva and will be tidying up some granite tombstones for the rest of the afternoon.   
Richard Moylan, president of Green-Wood Cemetery, says the statue was placed there by the local businessman Charles Higgins in 1920 to commemorate the Battle of Brooklyn. "She is saluting the Statue of Liberty. And that's especially important with our French volunteers, since the statue was a gift from France and France helped us with the Revolutionary War," Moylan says. "And Liberty is actually, we think, looking right at us, so Minerva is saluting her."
Minerva sits near the grave sites of Charles Ebbets, of Brooklyn Dodger fame, and the composer Leonard Bernstein.
The volunteers are headed to the Bartow-Pell Mansion in the Bronx next week.
Green-Wood cemetery is currently lobbying the Bloomberg administration to pass legislation that would prevent the construction of buildings that block the view from Minerva to Lady Liberty.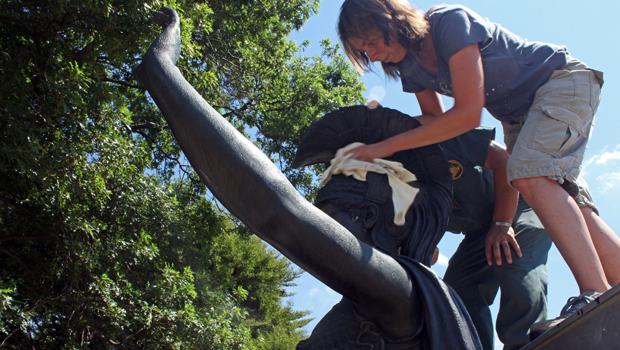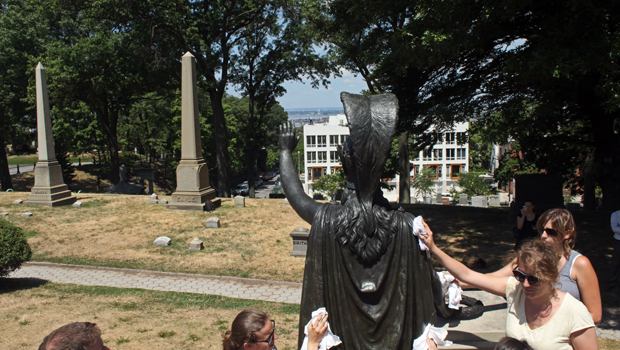 of