NYC Event Commemorates 20th Anniversary of Americans with Disabilities Act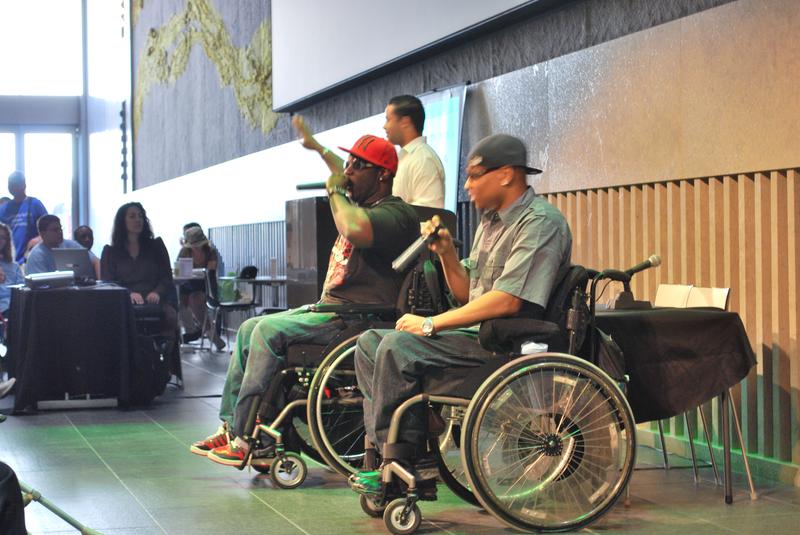 New York commemorated the 20th anniversary of the Americans with Disabilities Act at Lincoln Center on Monday with speakers from arts organizations, groups representing the disabled and a performance by 4 Wheel City, a duo that raps about the challenges of being wheelchair-bound.
"We just out here doing what we do best, fighting for our rights," said Ricardo "Rickfire" Velasquez—half of 4 Wheel City. "Our main message is, when you see somebody with a disability, don't think you're seeing somebody from a different planet."
The more than 100 people at the event were a diverse group—a New York City police officer paralyzed by a gunshot, students from the Lavelle School of the Blind, representatives from MOMA, the Guggenheim, and other arts organizations, and a woman with multiple learning disabilities there to show her support.
The ADA, many of the participants say, changed the physical environment to benefit the disabled. "I think physical access has become a real easy thing to understand—that we need to provide elevators and ramps and signage in Braille," said Carl Jacobsen, president of the New York chapter of the National Federation of the Blind.
But many agreed that there is still a long way to go, especially when it comes to technology. "The real challenge that still remains, however, even 20 years after the ADA, is to make sure that the technology that exists and is needed by so many people is available," said Laurie Hanin, executive director of the Center for Hearing and Communication.
Computer-assisted real-time captioning and induction loops—wires that wrap around spaces and help those with listening devices like hearing aids—are starting to be more prevalent in New York City, according to Hanin, but should be implemented on a more comprehensive scale.
For the blind, the now ubiquitous touch screens on cellphones and other devices are non-starters. "Your washing machine at home, probably, if you bought a new one, is a touch screen. Your microwaves have touch screens. Kiosks at airports have touch screens," said Jacobsen of the National Federation of the Blind. "There are just a myriad of things that are coming out now that are not accessible."    
4 Wheel City riff on problems with accessibility in their song, "The Movement."
"Buildings with no elevators? That ain't right. Stores with no ramps in them? That ain't right. Apartments with the doors too small? That ain't right. Bathrooms with no accessible stalls? That ain't right."