Green Girls: Scientists in Training
Twenty middle-school girls pulled on chest-high waders and went fishing with old-fashioned seine nets in the East River Friday morning. They are participants in a three-week City Parks Foundation summer program called Green Girls that tries to get 11-to-13-year-old girls interested in science and the environment.
"They get to see the things that they're learning in the classroom first-hand," said Green Girls director Danielle Rolli. "They've heard about all these things. They've read about it in textbooks, but it's hard to get excited about it until they see it."
This summer the Green Girls created jewelry from old bicycle parts, picked and ate mint and basil, and traveled to the Ashokan reservoir upstate, one of the sources of New York City's water.
On a recent trip, 13-year-old Maurisa Joseph even learned how to ride a bike. "Some of us don't know, like, how to do things, and we learn how to do it and go home and tell our parents, and they'd be shocked," she said.
The Green Girls waded into the water at Hallets Cove in Long Island City and were surprised when the rubbery britches pressed close to their legs due the pressure of the water. Working in teams, they dragged the long, skinny nets out a few yards, then pulled them back to the sandy shore, which seemed out of place in this very industrial corner of Queens.
When 12-year-old Vanessa Taylor opened the net and saw what looked like a little ball of translucent goo, she was surprised to learn that it was alive.
"I didn't know those were jellyfishes," she said. "I thought it was just nasty things from the ocean. You have to look closely and you saw the lines and the organs in it."
The brackish water of the East River is home to jellyfish, pipefish, Atlantic silversides, blue claw crabs, white perch, plankton and several strains of seaweed. Dennis Bader, a teacher who was helping the girls fish and take pH readings, caught a puffer fish two weeks ago.
The Green Girls had no problem catching fish, especially pipefish. Putting them into a bucket of water—with bare hands—turned out to be a little more challenging.
"It's nasty," said Alizah Henry, 13, as she shrieked and giggled. "I can't pick it up because it's wiggling in my hand."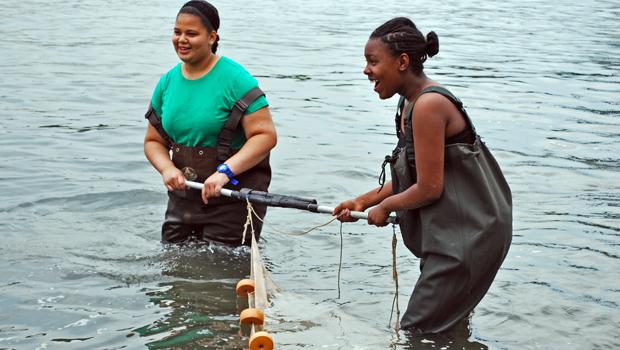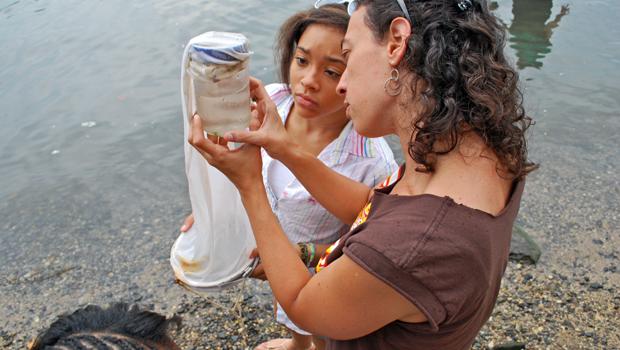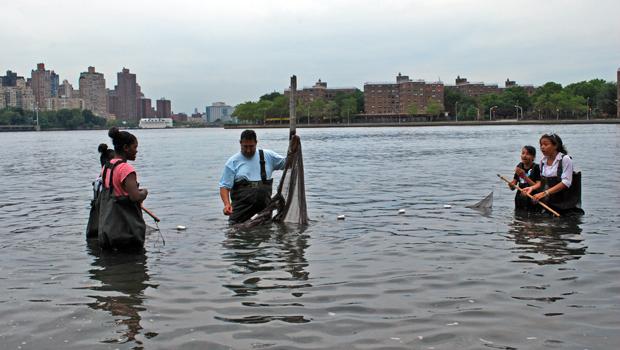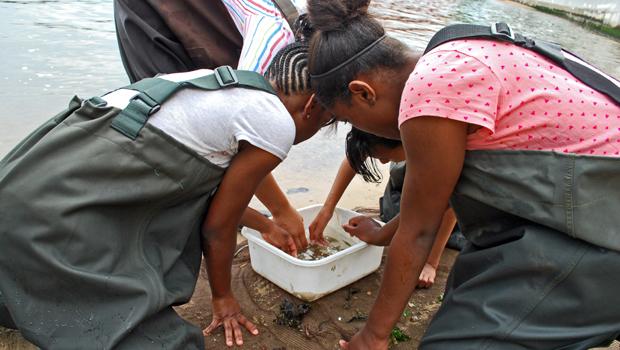 of