The Ultimate Brooklyn Mixtape
From the Marcy projects to Flatbush to Coney Island, there's no question that Brooklyn has grown some of the world's finest musical talent. But what's an homage to Brooklyn's best without a mixtape? Here are some of my favorite songs from Brooklynites, born and raised.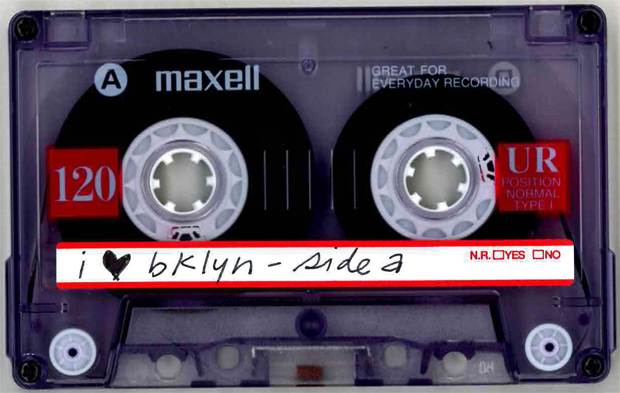 Side A - Old Skool
Track 1: "Appalachian Spring" by Aaron Copland – Composer Aaron Copland was born in 1900 in Brooklyn, and grew up in Prospect Park. The Lithuanian-Polish Jewish Copland family lived above H.M. Copland's at Dean and Washington, above Aaron's father's store. Copland's "Appalachian Spring," a ballet score for dancer Martha Graham, won the Pulitzer Prize for Music in 1945.
Track 2: "Stormy Weather" by Lena Horne – Around the world, singer, actress and civil rights activist Lena Horne was mourned this May, when she died at age 92. Born in 1917, Horne grew up in Bedford-Stuyvesant and attended Brooklyn's first public high school, then called Girls' High School. She sang the title track "Stormy Weather" in the film of the same name in 1943.
Track 3: "Donizetti's The Three Queens" by Beverly Sills – Soprano Belle Miriam "Bubbles" Silverman was born in 1929 in Brooklyn to Jewish immigrants from Romania. She went to Erasmus Hall High School in Flatbush. Bubbles called singing the parts for Elizabeth I, Mary Stuart and Anne Boleyn in Gaetano Donizetti's trilogy her finest achievement.
Track 4: "Evergreen" by Barbra Streisand – Like Sills, Singer and songwriter Barbra Streisand also attended Erasmus Hall High in Flatbush. She started singing in Manhattan nightclubs in her teens, and won an Oscar and two Grammys in the '70s for "Evergreen," the love theme from A Star is Born. The song was then at the top of the pop charts.
Track 5: "Sweet Caroline" by Neil Diamond – Singer and songwriter Neil Diamond was born in Brooklyn in 1941. He, too, attended Erasmus Hall High, singing in the school choir with Barbra Streisand. He graduated from Coney Island's Abraham Lincoln High. Caroline Kennedy was reportedly Diamond's inspiration for "Sweet Caroline." His 1969 original version of the song included an orchestra and a glockenspiel.
Track 6: "Copacabana (At the Copa)" by Barry Manilow – Singer Barry Manilow's smooth ballads are one of my guilty pleasures. He was born and raised in Williamsburg and went to Eastern District High, a now defunct school in east Williamsburg on Grand Street. Manilow has never forgotten his roots: "I live in laid-back L.A., but in my heart, I'm an energetic New Yorker and that's what has always come out of my music," he once said.
Track 7: "Alice's Restaurant Massacre" by Arlo Guthrie – Folk singer Arlo Guthrie, Woody's son, was born in 1947 in Coney Island. He is best known for his anti-Vietnam War draft protest blues song, "Alice's Restaurant Massacre," a blues song more than 18 minutes long. Guthrie's other discography includes Last of the Brooklyn Cowboys, which he finished in 1973.
Track 8: "Johnny Ryall" by The Beastie Boys - MCs Adam "MCA" Yaunch, Michael "Mike D" Diamond and Adam "Kid AdRock" Horovitz formed The Beastie Boys in Brooklyn in the early 1980s. (Yaunch and Diamond were both born in Brooklyn and Horovitz is from South Orange, New Jersey.) My favorite Beastie Boys album is Paul's Boutique, for its witty, wacky lines like "He's even more over than the mayor, Ed Koch."
Track 9: "Ain't No Half Steppin'" by Big Daddy Kane – Rapper Antonio Monterio Hardy became a member of the Queens-based Juice Crew in 1986, but he was born and raised in Bedford-Stuyvesant. Kane's fast-rap and high-top fades set him apart from other rappers. In the '90s, he performed with a young Jay-Z.
Track 10: "Ruffneck" by MC Lyte – Even though MC Lana Moorer was born in 1971 in Queens, she's included in the Ultimate Brooklyn mixtape because she grew up in east Flatbush and continues to work in the borough. She broke ground as one of the first female MCs in the hip-hop biz, along with Roxanne Shante and Queen Latifah. She was also the first female rap artist to get a gold record for her single "Ruffneck."
Side B: New Skool
Track 11: "Brooklyn Zoo" by Ol' Dirty Bastard – The late rapper Russell Tyrone Jones was born in Fort Greene in 1968. Ol' Dirty Bastard joined the Staten Island-based hip-hop group, the Wu Tang Clan, in the early '90s. Then, Jones released his own solo album Return to the 36 Chambers: The Dirty Version. (Many of the Wu Tang Clan's members have a connection to Brooklyn: Gary "GZA" Grice lived in Brooklyn. Corey "Raekwon" Woods, Lamont "U-God" Hawkins and Robert "RZA" Diggs were all born in Brooklyn but grew up in Staten Island. Jamal "Masta Killa" Arief is also a Brooklyn native who put out a solo album called Made in Brooklyn.
Track 12: "Liquid Swords" by GZA - Along with his cousin, Ol' Dirty Bastard, rapper Gary "GZA" Grice is also a Brooklyn native. He was a member of the Wu Tang Clan, which performed on GZA's second solo album, Liquid Swords, which he spit out in 1995. GZA also mentored another Brooklyn member of the clan, Jamal Arief, a.k.a Masta Killa.
Track 13: "Izzo (H.O.V.A.)" by Jay-Z - Rapper Jay-Z may now live in a swank TriBeCa apartment with R&B superstar Beyoncé, but his roots will always be off the J/Z Subway lines, in Bed-Stuy's Marcy projects. Shawn Carter went to Eli Whitney High and George Westinghouse High with the Notorious B.I.G. and Jamaican-American rapper Busta Rhymes. (Rhymes was born and raised in Flatbush.) The H.O.V. raps about selling crack cocaine in his youth, but now he's the proud owner of ten Grammys, the clothing company Rocawear, and shares in the New Jersey Nets and Roc-A-Fella Records. Above, watch a video of a young Jay rapping with mentor Jaz-O in 1990.
Track 14: "Hypnotize" by The Notorious B.I.G.– I lived in a brownstone next door to where rap legend Biggie Smalls grew up at 226 St. James Place between Fulton and Gates in Clinton Hill. The Met Food Supermarket where Biggie bagged groceries growing up is still there, but tragically, Biggie is not. He was only 24 years old when he was killed in a driveby shooting in Los Angeles, but his witty rhymes and looping beats continue to keep fans everywhere grinding.
Track 15: "Crush on You" by Lil' Kim – Rapper Kimberly Jones, a.k.a. The Queen Bee and Lil' Kim, was born in Bed-Stuy. That's where she met Biggie Smalls. The Notorious B.I.G. promoted Lil' Kim and the rap group she was then a part of, Junior M.A.F.I.A.
Track 16: "Get Me Home" by Foxy Brown – I was trying to close out my savings account at the Park Slope Citibank when rapper Foxy Brown, a.k.a. Inga Marchand, marched in to open her own account. Foxy was born in Park Slope's brownstone lined streets. She was discovered after she won a talent contest there, and subsequently got to rap over L.L. Cool J's "I Shot 'Ya" in 1996. MC Lyte, Lil' Kim and Foxy are three of Brooklyn's only female MCs.
Track 17: "I Try" by Talib Kweli: Rapper Talib Kweli Greene grew up in Park Slope and Bed-Stuy, Brooklyn. He went to Fort Greene's Brooklyn Tech High School but didn't graduate. In addition to a handful of solid solo albums, Kweli formed "Black Star," with Mos Def in the late 1990s. He and Mos Def also bought Brooklyn's oldest black-owned bookstore, Nkiru, which is on Washington between Park and Prospect, and turned it into the Nkiru Center for Education and Culture.
Track 18: "Ms. Fat Booty" by Mos Def: Socially conscious MC and actor Dante Terrell Smith was born in Bed-Stuy's N.Y.C.H.A. Roosevelt Houses. He went to Philippa Schuyler Middle School in Bushwick. I saw Mos Def perform with Talib Kweli, his partner in the Afrocentric hip-hop group, Black Star, at the Dave Chappelle Block Party in front of the Broken Angel House at Downing and Quincy in Clinton Hill in 2005.
Track 19: "Pretty Wings" by Maxwell: R&B soul singer Gerald Maxwell Rivera was born in Brooklyn, but has said that one of the main influences for his work is West Indian music. "I wasn't necessarily influenced by everything that was around me when I grew up, but having family from four islands in the Caribbean made for a wealth of influences," he said.
Track 20: "Make Me Better" by Fabolous – 32-year-old Dominican-American rapper John David Jackson was born in Bed-Stuy. He has so far released five albums selling over three million copies, and is reportedly one of the first East Coast rappers to integrate Southern hip-hop sounds into his work. He cut "Make Me Better" with R&B star Ne-Yo in 2009.
P.S. Cassette Tape Extras! (or Honorable Mentions)
These songs almost made it onto the Ultimate Brooklyn Mixtape. However, they were cut since most of the artists below were born in Brooklyn, but moved to Long Island, Detroit or (horrors) Manhattan shortly after they were born.
"Rhapsody in Blue" by George Gershwin – Composer George Gershwin was born in Brooklyn in 1898 to Russian Jewish immigrants, but the legendary composer did not stay long before his family took him to Manhattan's Lower East Side.
"Lisa Says" by Lou Reed & The Velvet Underground – This will always be my favorite rock-and-roll ballad by Lou Reed and his band, the Velvets. Reed was born at Beth El Hospital in Brooklyn but grew up in Freeport, Long Island.
"Try Again" by Aaliyah - This 22-year-old R&B pop singer died in a plane crash at the Bahamas after filming a music video. Some Brooklynites still claim  Aaliyah Dana Haughton as their own since she was born in Brooklyn and raised in Detroit, Michigan.
"Electric Youth" by Debbie Gibson – Pop queen Debbie Gibson was born in Brooklyn, but only in her dreams would she have grown up in BK! Instead, she began her singing career in Merrick, Long Island.
"Build Ya Skillz" by KRS-One – MC and socially concious rapper Lawrence Parker was born in Park Slope in 1965, but left Brooklyn for the South Bronx at age 14. Brooklyn native Busta Rhymes is also featured in this song.
"Albee Square Mall" by Biz Markie – MC Biz Markie may be from Maryland, but he did a darn good job convincing me he was from Brooklyn in this song about Fulton Street's now flattened Albee Square Mall. Here's one of the lyrics from the song: 'My house is the Albee Square Mall, Pared-down, I be in there every day walking around chillin', from when they open all the day until they just about time to close, I'm just running things like a pair of pantyhose.'
"Love is a Battlefield" by Pat Benatar – This 1980s power ballad is so good that I wanted to attribute it to a Brooklynite. However, even though singer Patricia Mae Andrzejewski was born in Greenpoint, her parents left the borough for Lindenhurst, Long Island when she was a toddler.
"Nah Mean" by Nas – Nas, formerly Nasty Nas, was born in Crown Heights, Brooklyn, and reportedly played the trumpet on the steps of his stoop there until he was four years old. Then, his family moved to the Queensbridge projects in Long Island City, Queens.
What's your favorite song that's made in Brooklyn? Leave us a comment below!