Michael Lewis, seventeen, is a second generation Trinidadian American who lives in Brooklyn with his parents, siblings, and niece. Michael has idolized his older brother, Junior, his entire life and has followed him into everything -- good and bad, but mostly bad.
Junior, who recently got arrested and spent months in jail, insists that Michael stay in school but doesn't do much to give Michael a positive example. Michael keeps finding himself on the same path as Junior. In his story, Michael questions whether he can, or even wants to, separate enough from his brother and their friends to change his ways.
Michael was mentored by Jocelyn Gonzales.
---
Michael's Poems:
Reynold James Lewis Junior
Reynold James Lewis Jr. Born innocent, drawn into it. Robbery and crack sales, decisions by the black male. Miserably headed back to jail. Fast money, flash cash, black dummy backlash. Looking at the world pass sitting in the back trapped. He's designed to excel but he's confined to his cell. His mind's in a well. For awhile it was hell, then a smile came with bail. Now it's time to rewind (where he fell). He won't fail.
Mom
You've always been there telling me you cared but your words just ran through my ears. It's you I need to thank for living, putting food out on thanksgiving, smell of turkey and burning of ham from working early and returning of cans. Mom strong as Harriet Tubman, moving milestones for her family's production.
Untitled 3
I've been through ups, I've been through downs. My pencil's up, my pen is down. Erase mistakes I've been around. Create my faith on different grounds. Listen, learn study to a certain degree and pay attention, it's free. One day they might be mentioning me on radio or TV. I gotta set my goals and go to the T. That's the top if god is willing. Gotta stop the lifestyle I'm living. There's a spot on file for Mama's children. I doubt it's outside the building selling crack. Maybe a doctor or a congress man laying back on a wealthy track but I could really see me making it from rap.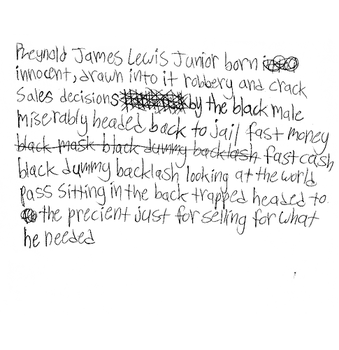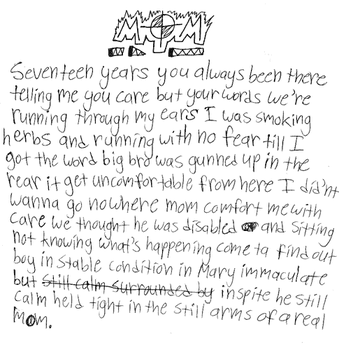 of