Snacking on a Succulent Weed
For the rest of the summer, we'll be revisiting previous episodes of Last Chance Foods. 
"Purslane is a succulent weed," explains Amy Chaplin, a former chef at the long-established vegetarian restaurant Angelica Kitchen. While "succulent" and "weed" are not words generally associated with edibles, purslane is a wild green that grows rampant through the summer and makes for a lemony, peppery salad green.
It's in season now, and cropping up everywhere from sidewalk cracks and local parks to The New York Times and Ruth Reichl's blog. Chaplin spoke with WNYC's Amy Eddings about purslane.

Purslane is a more toothsome green that the average Romaine and has the added benefit of being particularly healthy. "It's really high in omega-3 fatty acids, higher than some fish," says Chaplin (pictured below), who now works as a private chef and writes the blog Coconut & Quinoa. "It's actually high in calcium, vitamin A, B6, and C. It's a great anti-inflammatory, anti-oxident. The list goes on and on."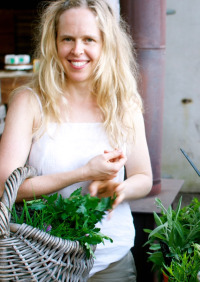 And for the urban foragers with an eye for edibles, purslane can be found everywhere. "We find it in Central Park. We find it in Inwood Park, in Forrest Park, in Cunningham Park, Van Cortlandt," says expert forager "Wildman" Steve Brill. "It likes sunny areas, so it's basically all over the place. If you have a neighbor who gives you permission to pick in their backyard, they'll be happy that you're removing a weed."

The key with foraging for puslane, as with anything else being eaten, is to stay away from high-traffic, potentially polluted areas. It might seem edgy to eat something off the sidewalk, the safer bet is to stick to local parks and side streets. As for dog pee, Brill makes the argument that urine is easily washed off by water — whereas cultivated plants are often steeped in pesticides and chemicals.

The only potential danger might be mistaking purslane for a less edible weed. "There's a plant called spurge that often grows next to purslane, but it doesn't have the succulent, fat stem," says Brill.  "It has a skinny wiry stem and there's white sap when you break it open."

So stay away from spurge, but go to town on purslane, since it grows everywhere, is in season, and tastes delicious.

Below is Amy Chaplin's recipe for an easy purslane salad, ideal for a hot summer day.
Purslane salad with flax-chive dressing
by Amy Chaplin

serves 2


5 baby turnips, cut in ¼'s
5 radishes, cut in ¼'s
5 baby carrots, cut in half lengthways
10 sugar snap peas, trimmed
2 large handfuls purslane

Dressing
2 tablespoons flax oil
Juice of half a lemon
½ teaspoon tamari or shoyu, or more to taste
Black pepper
6 chives chopped

1. Place turnips and radishes in the basket of a steamer and steam 2 minutes. Add sugar snaps and steam 1 minute more. Remove from heat and spread out on a platter to cool.
2. Wash purslane and remove roots and large stems, break into bite size pieces and drain well. 3. Toss with cooled vegetables.
4. To make the dressing, whisk everything together and drizzle over salad.