New York Looks to Philadelphia for Ideas on Sewer Overflow Issues
When it comes to meeting federal clean water standards, New York and other older cities like Boston and Albany are decades behind. One reason is all the human waste that's discharged every time a storm overwhelms the capacity of 19th century combined sewer systems, which collect rain and sewage in the same pipes. Now New York is looking to another old East Coast city, Philadelphia, for new ideas.
Just a few years ago in South Philadelphia, Herron Playground looked like a lot of other city parks.
"Essentially this whole site was pavement before," says Glen Abrams from the Philadelphia Water Department. He says when the playground came up for a renovation in 2007, new guidelines required parks to manage stormwater runoff. But instead of just complying with those rules, city officials decided to go all the way and make Herron Playground into a showpiece of sustainability.
"All of this rubber safety surface is recycled ground up tires, so the water flows through it," Abrams says. "All of these drains, instead of going directly into the sewer system, first flow into the rain garden that's in the front here."
Abrams says by capturing that initial inch -- known as the "first flush" -- and keeping it out of the drains for 24 hours, a little playground like this can do a lot to prevent the overflows that send pathogen-filled human waste into the Delaware River and other local waterways.
Philadelphia is relying more and more on green infrastructure: street trees, green roofs and restored wetlands around the city, and depending less and less on so-called "grey" infrastructure like expensive underground storage tanks. The water department has also changed the way it bills customers; non-residential building owners now have to pay for the amount of storm runoff they generate based on how much concrete or other impermeable surfaces they have on their properties.
"There are some real incentives for our customers over time, when they're thinking about redesigning or rebuilding their facilities, to start thinking about incorporating stormwater management," Abrams says.
Philadelphia's policy shift has been possible, in part, because federal regulators with the Environmental Protection Agency have become more flexible about how they measure compliance with the Clean Water Act.
"We are particularly interested in these sorts of innovative approaches because it's just not realistic that struggling communities are going to have the billions and billions of dollars necessary to upgrade every part of their sewage system," says Judith Enck, the regional director for EPA region 2, which covers New York and New Jersey.
Enck says the federal stimulus package included hundreds of millions of dollars for sewer upgrades, and 20 percent of that money has been set aside for green infrastructure projects.
"With that encouragement, cities are off to the races," says Carter Strickland, Mayor Michael Bloomberg's Deputy Commissioner for Sustainability. He says he's been to Philadelphia to check out their program, and he likes a lot of what he's seen. But he says New York is moving at a more deliberate pace in an attempt to get good data about which methods work best.
"We still, at the end of the day, have to prove that what we build will have an effect. We're holding ourselves to a high standard about what we build and the fact that it has to have a real water-quality benefit," Strickland says.
One project that is already underway is a limited version of Philadelphia's stormwater charge. It covers stand-alone parking lots that don't use drinking water, but generate a lot of runoff. Meanwhile, the Department of Environmental Protection has just awarded $2.5 million to fund five pilot projects in Brooklyn and Queens, but work on those hasn't started yet. When WNYC asked DEP officials if there are any sites we could see now, they sent us to see a single tree planter in Brooklyn.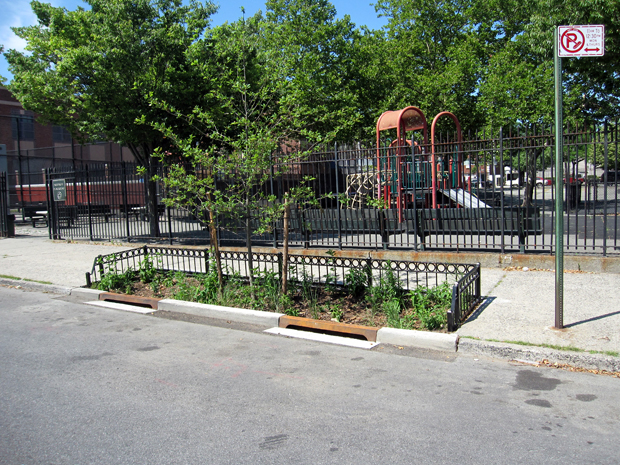 That tree is at the corner of Autumn and Stanley Avenues in East New York and looks like your average street tree, only in a somewhat longer-than-average pit. It's actually one of 10 so-called swales in the Jamaica Bay watershed. DEP's Director of Ecological Services, John McLaughlin, says it may not look like much, but this black gum tree and the soil under it can hold 950 gallons from that crucial first inch of rainfall -- water that would ordinarily go into city sewers and contribute to overflows.
"While there's no silver bullet, every little piece helps, and placing these in many locations does have a cumulative effect that begins to make a difference," McLaughlin says.
The Jamaica Bay watershed trees are part of a pilot program, as is the stormwater charge for parking lots. That's the same stage the Parks Department is at with its green infrastructure projects, like the one under construction at the Pearly Gates structure in the Westchester Square neighborhood in the Bronx.
Pearly Gates is a small Robert Moses-era park that's currently getting a $1.5 million rehab. Landscape architect Stephen Koren created the rain garden, which is designed to receive runoff from the basketball court.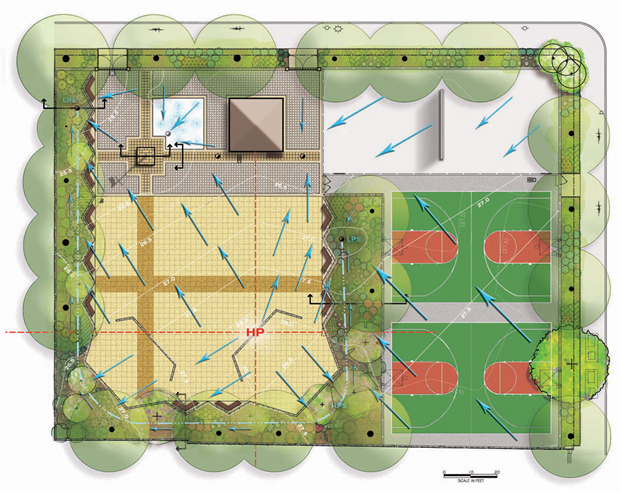 "All the surfaces actually drain into the surrounding planting bed," Koren says. "Whenever it rains it's actually watering the surrounding plants and any excess then goes into the catch basin, but the first flush is actually captured."
The project manager, Nette Compton, says landscape architects have been interested in stormwater management for a long time, but now it's easier to get approval for it.
"Basically, our bosses are into it now! So there's more of an environment to try new things, to experiment," Compton says.
Still, Koren concedes that it's not easy to transform the culture of a big agency like the Parks Department.
"There's a lot of tried and tested methods that I think we rely upon, and because we're such a large consumer of landscape materials, it's hard to just all of a sudden change course, so that's why we're taking baby steps," Koren says.
But that slow pace is a source of frustration for environmentalists like Michael Heimbinder with Stormwater Infrastructure Matters (SWIM coalition). He says the problem is built into Mayor Michael Bloomberg's sustainability goals for 2030, known as PlaNYC. He says the program provides a good blueprint for how different city agencies should work together to manage stormwater. "Unfortunately, it doesn't have any kind of enforcement mechanism. It doesn't have any kind of power to bring different stakeholders to the table and make them cooperate," Heimbinder says.
Heimbinder thinks the city should require the installation of green infrastructure any time crews renovate a park or tear up a street. He points out that every year that officials talk about these projects without implementing them, another 27 billion gallons of raw sewage and polluted rainwater spill into New York harbor.
More images of the proposed surface for the Pearly Gates Park: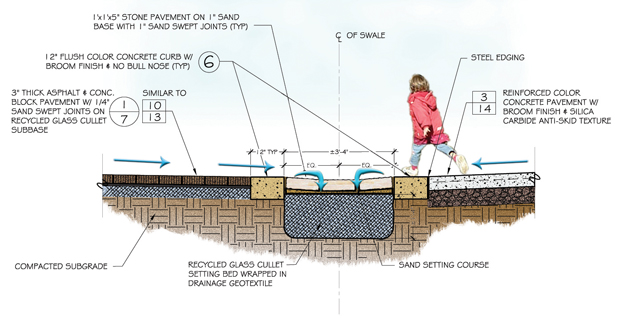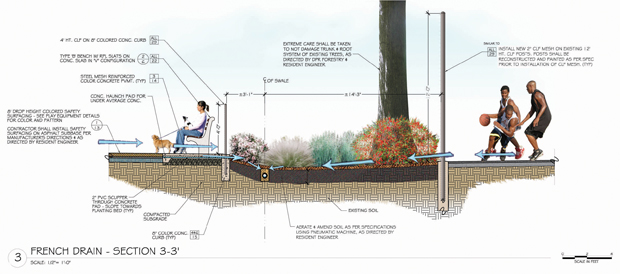 Photos courtesy of NYC Department of Environmental Protection