Hot Dog Eating Champ Released from Jail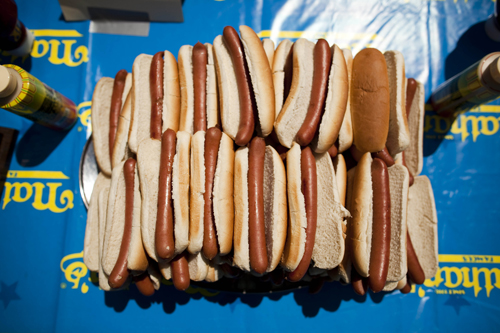 His black t-shirt bore the message: 'free Kobi' and today, a Brooklyn judge did just that. The six-time Coney Island hot dog eating contest winner, Takeru Kobayashi, was released after he spent the night in jail.
Kobayashi was arrested on Sunday following his interruption of the annual hot dog eating contest. He did not participate in the event this year because of a contract dispute, but appeared on the stage anyway.
His lawyer says Kobayashi was waved up on stage after spectators began chanting, "let him eat!" Kobayashi has pleaded not guilty to charges of obstruction of governmental administration, resisting arrest, trespassing and disorderly conduct.
Kobayashi has refused to sign a contract with Major League Eating, known as the NFL of professional eating. Sunday's big winner was Joey "Jaws" Chestnut, from San Jose, California, who devoured 54 hot dogs in 10 minutes.