Packed Stores and Long Lines for Apple's Latest Release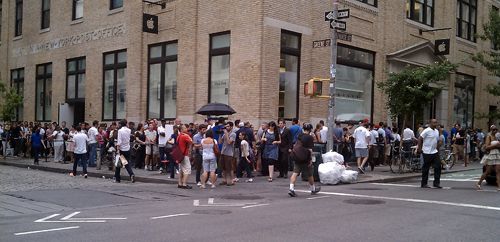 The newest iPhone went on sale this morning, causing tech savvy consumers around the world to queue up for hours to be among the first to get the high-tech cell phones.
Wynaomi Glasser had been up since 5 a.m. at the Apple store at 59th Street and Fifth Ave. She said people who doubted the wisdom of waiting eight hours for a new iPhone were in denial.
'Haters,' she said. 'You know when I have it out you're gonna want it. You should probably just cave in and get one.'
Jesse DeSoto, who had come to visit a friend waiting on the endless lines, had a different take. He was among the minority that wasn't so sure it was worth the wait.
'Everyone is trying to get the newest phone that's what it's all about,' he said. 'The problem is, like two months, another phone will come out that will be better.'
Outside of Apple's SoHo store, hundreds more waited to pick up their pre-ordered iPhone 4s, including some who began waiting at 2:00 a.m.
In general, people were excited about new features like the faster operating system, high-def video editing (right on the phone) and and the new 'face time' app, which allows a sort of video conferencing.
Have you ordered the iPhone 4? Did you wait online to pick it up? How do you like it? Let us know.