Bill Seeks to Curb Food Trucks With Parking Violations
If you buy food from street vendors, you may have noticed a lot more food trucks on the streets. New York City Councilmember Jessica Lappin has -- and now she wants truck operators who get multiple parking tickets to lose their permits.
Lappin, who represents the Upper East Side,  wants to make it clear that she likes street food. She buys it, she eats it, she supports it. "Food trucks are part of what makes the city vibrant, and an important part of the landscape, she says. "And we hope that continues to remain the case."
But she says in her neck of the woods, there's a problem.
"There is a vendor on 86th and Lex. who thinks that he owns the northeast corner. And that bothers me. I don't think it's right."
Shaban Azab runs that food truck. And he wants to know: "This is going to happen to every car, or only me? Only the food truck? What do you want me to do?"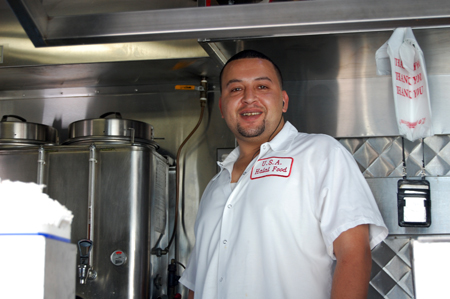 For Michelle Birnbaum, the vice president of the East 86th Street Association, the answer is simple: Use the meters the way they're meant to be used -- for short-term parking. She says: "We find that our neighborhood, and particularly one block, has actually been inundated with mobile truck vendors. As a result of that, we've had not only street crowding, not only sanitation issues, but we've also had merchants complaining that their parking spaces have been lost."
But that didn't seem to be the prevailing opinion on the corner of 86th Street and Lexington. One person, who gave her name as J. Gold, said "people deserve to make a living." Just around the corner, a man named Qiydar was even more enthusiastic, saying of street food: "It's homemade, and you see it in your face."
It's also cheap, said a retail worker who gave her name as Natasha. "What are the people working in the area supposed to do, are we supposed to spend $15 dollars for lunch every day? It's kind of ridiculous, when this is super inexpensive."
Sean Basinski is the director of the Urban Justice Center's Street Vendor Project. He's on the Upper East Side to rally support for food truck vendors, and he waves his hand across Lexington Avenue to point out vehicles he says are also violating the law. "We believe the law should be fairly enforced. It should be enforced against him. It should be enforced against that woman with the SUV from New Jersey, and it should be enforced against the Budget rental truck all the same."
Earlier this week, Queens Councilwoman Karen Koslowitz chaired a public hearing on the bill. The room was packed with people eager to give their opinion. But at one point during the hearing, someone who wasn't actually present weighed in via note. She reads: "I just want to mention that we got a letter from the administration opposed to the bill."
So far, three of the City Council's 51 members have pledged their support for the bill. Another  31 votes would be needed to override a mayoral veto.
[imagebrowser id=223]
(Photos by Stephen Nessen)
Where is your favorite food truck in the city? Let us know, leave your comments below.