Pianos Ready for Play at a Park Near You
Drop that Frisbee and break out the sheet music.
British artist Luke Jerram has set up 60 pianos in city parks and public spaces for anyone to play. It's part of a public art project called "Play Me, I'm Yours" that's bringing the hand-decorated instruments to locations like the Staten Island Ferry Terminal, Chelsea Market and Grand Concourse in the Bronx.
Jerram thinks the pianos, which have been decorated and painted by local artists, students and volunteers, will spark conversation between strangers and inspire impromptu concerts and music lessons.
"I hope the pianos really act as a kind of catalyst to get people talking with one another," he said. "The pianos are a blank canvas really for everyone else's creativity."
The art project debuted Thursday in Gantry Plaza State Park in Queens, where two pianos sit just feet from the East River. Pianists there have a pristine view of Midtown and the Empire State Building and the breezes off the river — well, be careful with that sheet music.
At the press conference introducing the project, Mayor Michael Bloomberg joked with the crowd of schoolchildren, reporters and passersby ogling a piano that looked like a boulder with wings.
"I hope everyone gives it a whirl, even if all you can play is 'Chopsticks' or, as I can do, a scale, which I screw up occasionally," he said.
More serious musicians were on hand. Alexander Long, 18, who plans to pursue a degree in music at SUNY Fredonia in the fall, tinkled the keys of the public piano in front of reporters and onlookers. Although the piano was, according to him, out of tune, he managed to get through the performance.
"That was a mixture of nerves, ad-libbing, and trying to play a song that I wrote," he said.
The event in Queens was a preview. "Play Me, I'm Yours" has its official kick-off June 21 at Make Music New York, a one-day music festival with more than a thousand performances across the city. The piano project was organized in part by Sing for Hope, a non-profit that organizes artists to volunteer in hospitals, schools and communities.
Sing for Hope director Camille Zamora summed up her vision of the public art project: "There are many people, even in this great city, that don't have access to creative outlets," she said. "Our feeling is, let's bring art into everyday life. Let's make it available to all, particularly to people who might not have access to it otherwise."
Virtuosos and dilettantes alike will have free rein over the pianos for two weeks starting June 21.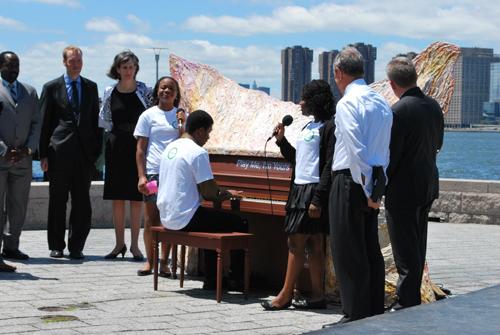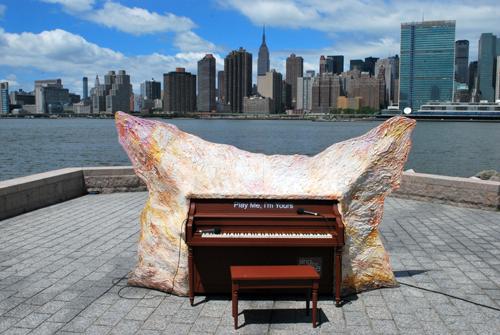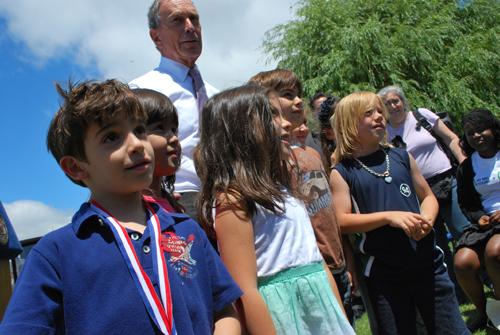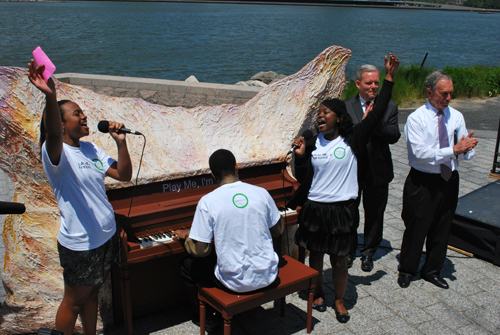 of