City Unveils New Sewer-Cleaning Trucks That Suck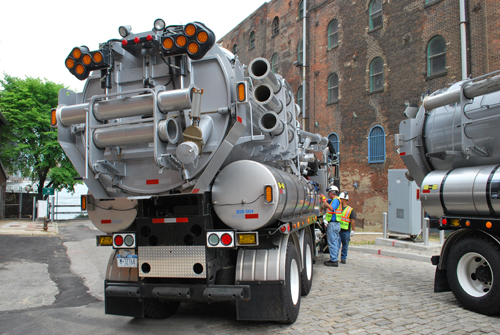 The city has unveiled two powerful new trucks that really suck -- debris that is, and other sediments that can clog sewer pipes. The city is hoping to do away with having workers climb into the sewers to manually dislodge debris with shovels. Now they can work from street level by lowering a 30-foot hose through open manholes.
The largest sewer pipes, called interceptors, are between 4 and 10 feet in diameter. When the workers were inside, they had to contend with dangerous gases, wild animals and torrents of filthy, chest-deep water. For them, the new trucks are a huge leap forward.
"These trucks are the state-of-the-art right now," says Chris Laudando, who oversees the crews on the new trucks. "We were working as cavemen before, and now, this is the best technology available for us."
The trucks will first be used on the 136 miles of interceptor pipes that feed into the city's 14 wastewater treatment plants. When those pipes are overwhelmed during storms, wastewater and stormwater is discharged into New York City's rivers and streams. Fewer debris bottlenecks will mean fewer discharges and cleaner waterways for New Yorkers to enjoy.
"There's going to be an immediate impact on water quality," Department of Environmental Protection commissioner Casswell Holloway says.
When workers remove debris to make more room for water, they've found tires, mattresses, rocks and other items.
"We find pieces of cars. We find bits of boats. Wood. There's always some kind of insect or animal down there. Just about anything that will fit down a sewer, we find," Laudando says.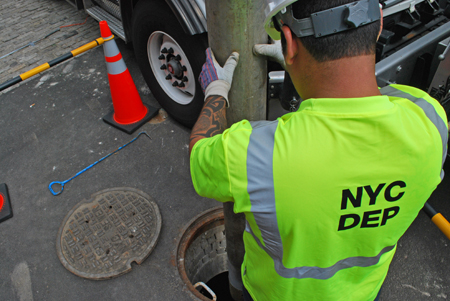 Laudando's four-man crews have been training on the trucks for two weeks now. After Wednesday's debut in Williamsburg, the trucks will roll to the Springfield Gardens, Rosedale and Jamaica sections of Southeast Queens, where interceptor pipes are rife with debris.
Getting there could be interesting. The $450,000 trucks are roughly the size of city buses and tricky to maneuver.
"Even though I have a CDL [commercial driver] license, the only way I will drive this truck until I get used to it is, like, out on Floyd Bennett Field or up at Ward's Island on private roads. It's a monster," says Jim Tucciarelli, president of Local 1320, the city sewage workers' union.
The interceptor sewer pipe-cleaning will take about two years. After that, it's on to thousand of miles of smaller sewer pipes that zigzag below city streets. Two more trucks will be added to the city's fleet in 2011.