BP's Plummeting Stock Affecting New Yorkers?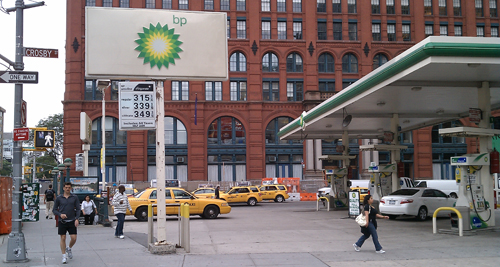 Angry at BP? Thinking of boycotting BP-branded gas stations but worried you might end up only hurting the little guys?
Maybe you're happy to see the company's stock getting pummeled in trading? Since the oil spill started, the company's stock has fallen nearly 50 percent from $60.48 on April 20, to $30.89 a share on Thursday, June 10.
"Serves them right!" you say.
But here's where it gets complicated, especially for residents of New York. The state's Common Retirement Fund had more than 17.5 million shares of BP in 2009, according to the latest available fiscal report. Presuming the fund holds the same number of shares, its holdings have now fallen more than $517 million. That's about 0.4 percent of the current $132.6 billion fund that pays benefits to more than one million members.
While the office of the New York State Comptroller that oversees the nation's third largest pension fund had no comment, there are currently some "high-level" discussions going on about the BP oil spill and Thomas DiNapoli, the comptroller, is reviewing options for the fund.
So what do you do if you are an elected official?
On the one hand, DiNapoli, as well as other state officials, have a fiduciary responsibility to earn as much money as possible for its citizens, especially when we are talking about pensions for policemen and firemen.
Then again, in the face of BP's spilling and polluting and alleged foot-dragging, do you sell the shares of a "dirty" oil company and score political points for being socially conscientious?
It's not just public officials who could be confronting this fraught fiscal issue.
The 10th largest institutional holder of BP stock is the Bill and Melinda Gates Foundation Trust with over 7.1 million shares. With the drop in BP's stock, the Trust would have seen more than $210 million evaporate if it had not changed its stock holdings. That loss equals about 7 percent of $3 billion in grant payments the Foundation made last year.
The Trust did not return calls for comment.
At least New Jersey can consider itself fortunate. The last time the state pension fund bought shares of BP was in September of 2009. It started selling BP stock in January of this year and sold the remainder of its holdings within days of the oil spill.
In total, the state's pension plan made $5.5 million in its investment.