Norah Jones Kicks Off Brooklyn Al Fresco Concert Series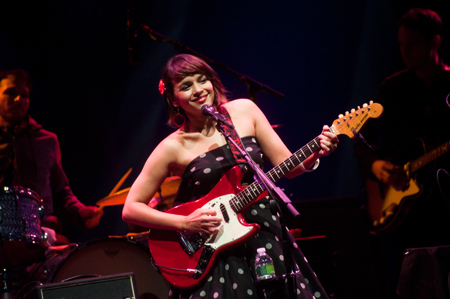 Brooklyn resident and soulful singer-songwriter Norah Jones kicked off Brooklyn's open-air free concert season on Wednesday night with a nearly two-hour show in Prospect Park. Some 5,000 concert-goers turned out, huddling under umbrellas to hear Jones' sultry voice, piano and guitar playing as steady rain fell.
'Thank you guys for coming out. Especially tonight,' the 31-year-old Jones said from the stage of the Prospect Park bandshell. 'You have a beautiful bouquet of umbrellas, and we really appreciate your coming out and getting soggy with us.'
Norah Jones has won nine Grammy awards for her blend of soulful jazz and pop music, beginning in 2002, when she released her debut album, Come Away with Me. Jones' most recent disk, The Fall, released last November, features song collaborations with Ryan Adams, Okkervil River's Will Sheff and Jesse Harris.
Wednesday's concert was Jones' first time performing in the Celebrate Brooklyn concert series. Celebrate Brooklyn's free al fresco concerts take place in Prospect Park, Brooklyn now through early August.