Hitchens Gets a Spanking from "Charismatic" Thatcher
The political pundit/contrarian/outspoken intellectual Christopher Hitchens appeared on the Leonard Lopate Show on Friday to talk about his new memoir, Hitch 22.  During the interview, the conversation turned to Margaret Thatcher and Sarah Palin.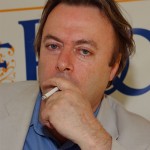 LL: You tell a story about getting a spanking from Margaret Thatcher.
CH: Yes, I've had physical contact with Mrs. Thatcher. Baroness Thatcher as she's known.
LL: Were you an admirer?
CH: Sexually, not politically.
LL: You thought she was physically attractive?
CH: When she was first elected leader most of the press, almost everyone in the press thought the Tories had gone mad and that they'd chosen this shrill suburban housewife. Everyone wrote in this snobbish way about her. Well, everyone must have been wrong because she went on to change the course of events dramatically, and British society. I thought I was earlier than most to see that she had something charismatic, I would say that is partly sexual. She had the most beautiful skin I've almost ever seen on a woman.
LL: People say the same thing about Sarah Palin, do you support Sarah Palin because of that?
CH: She's got no charisma of any kind. I can imagine her being mildly useful to a porn director. Mrs. Thatcher, you see, would be no good in that way.
LL: Probably not.
CH: Can't picture it can you? But you've already pictured Sarah Palin, haven't you?