New York Makes Keys to the City Available to Anyone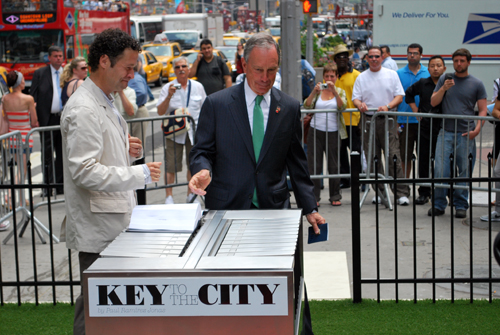 Keys to the city have traditionally been reserved for visiting dignitaries, winning sports teams and heroes like Captain Sully Sullenberger, but in a new public art project called "A Key to the City," residents and visitors can bestow and receive keys that will open over 20 private spaces and secret compartments around the city.
Mayor Michael Bloomberg announced the project in Times Square Thursday, next to a new kiosk where the keys will be available.
25,000 free keys will be available through June 27. The spaces that can be unlocked include the churchyard that contains Alexander Hamilton's tomb, a closet door in Gracie Mansion and a garden maintained by monks at the Staten Island Buddhist Vihara.
"It's essentially creating a city-wide scavenger hunt in which participants get to explore landmarks, cultural organizations and small businesses," Bloomberg said.
The goal of the project is to get New Yorkers thinking about the nature of public space and to explore new places in the vast metropolis. It's sponsored, in part by Creative Time, a non-profit that commissions and presents public arts projects.
The group's president and artistic director Anne Pasternak hopes participants will discover some new nooks around town.
"You'll be able to engage all sorts of public spaces in new ways, from public schools to courthouses to community gardens to museums," she said. "It's a really kind of wonderful poetry that the artist has created about publicness in our city," Pasternak said.
Artist Paul Ramírez Jonas gave the mayor the first key at the opening ceremony. Participants will also receive a map with the locations of the locks.
The various gates, lockers, P.O. boxes, secret compartments restaurants, museums, bridges and parks are accessible during business hours. Medeco Security Locks paid for the keys and locks.
Participants are encouraged to hold on to their keys, but the locks will be available until Labor Day.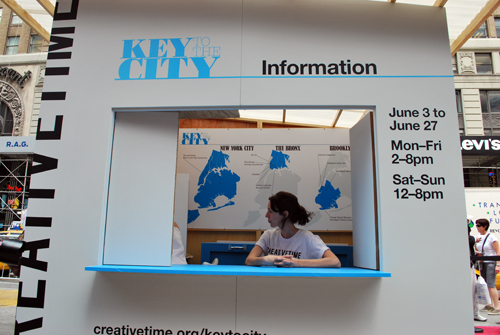 Reporting by Daniel P. Tucker