New Memorial Day Tradition-- Dipped in Maple Syrup and Parked on the Gowanus
On the banks of the Gowanus Canal in Brooklyn, many enjoyed an alternative to the traditional Memorial Day barbecue at the second annual 'Parked,' a food cart festival. About a dozen gourmet food vendors assembled at The Yard, an industrial-looking outdoor event space, where vendors sold everything from pizza to dumplings.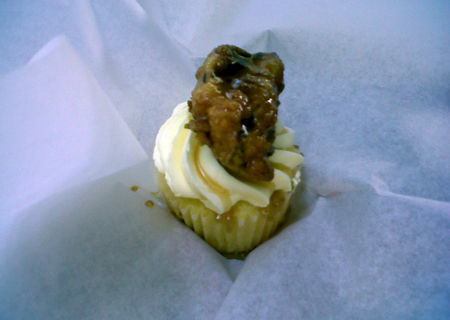 An unlikely item that nearly sold out was the Chicken n' Waffles cupcake. One of the inventors, Allison Robicelli of Robicelli's Cupcakes, says the creation begins with a vanilla butter cream cupcake, that is then topped with buttermilk soaked chicken.
'Then we deep fry it twice and right before we serve it we dunk it in pure 100 percent Vermont maple syrup and get it really good and soaked with syrup, and plop it right on top of the cupcake. The syrup drips all over the sides right into the cake,' Robicelli says.
Allison Robicelli and her husband Matt have concocted more than 70 unique flavors and come up with new ones about every two weeks.
But their Chicken n' Waffles creation might just take the cake. Allison Robicelli explains:
The Robicellis had a shop in Bay Ridge, but closed it to become wholesalers, caterers and to sell at impromptu gatherings and parties, like the Gowanus Food truck festival.
They have a stand at the Red Hook Mercado.
More than 1,000 people were expected to take part in the food festival and that meant long lines throughout the day.
[imagebrowser id=222]
Photos by Kathleen Horan