FDNY Shows Off Latest Fireboat at Fleet Week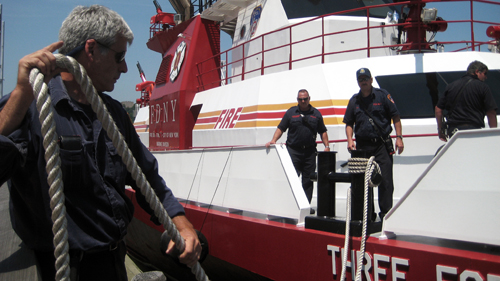 Joining the dozens of ships cruising up the Hudson today for the beginning of the 23rd Fleet Week was New York's latest addition to anti-terrorism security -- what the Fire Department is calling the world's most-advanced fireboat.
The new $27 million vessel is called Three Forty Three in honor of the number of firefighters killed on 9/11. Three Forty Three will replace the 56-year-old John D. McKean, which was used for everyday firefighting operations in the region.
The steel in the lettering for Three Forty Three is made of steel from the World Trade Center.
But for members of its crew, Three Forty Three is more than just a new boat, it's a complete change, which will require intensive training.
"Compared to other fireboats, it's night and day," pilot Jim Campanelli says. "The boat we're operating now was built in 1954, so the technology is basically 1950; it's going to the space age."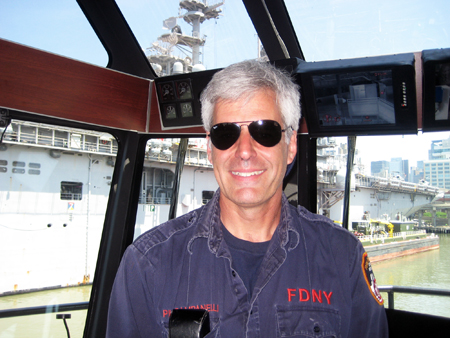 The Three Forty Three can pump 50,000 gallons of water per minute, compared to 18,000 on older boats. It also can also travel at 18 knots, two times faster than its predecessors. It has an array of new tools, including Campanelli's favorite "toy," the FLIR Camera, a heat-seeking camera that can detect human presence in the water at night.
One of the the boat's most unique characteristic is its protection system. It was designed to shield the crew from chemical, biological, nuclear and radiological agents through a special air filtration system.
Bill Seelig, Chief of FDNY special operations says the boat will be able to handle most threats.
'That could be for a terrorist type of incident, or even an industrial accident: a chemical spill, a chlorine spill. The protection system on this boat will allow the boat to go on areas and protect the crew inside the cabin whereas other boats would not be able to respond,' Seelig says.
Officials estimate the ship will start service in late July and is expected to remain in service for the next 50 years. Until then, all the members in the Marine division of the Fire Department will be trained on how to handle it.