Bloomberg Makes a Cavalier Pitch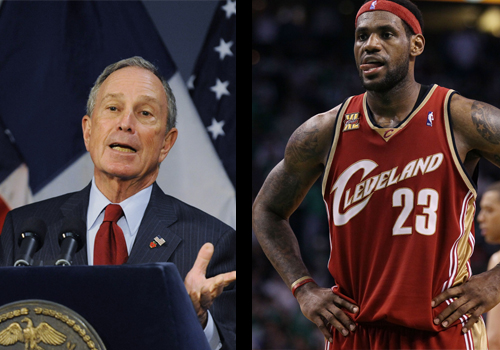 Still licking his wounds after a fresh playoff defeat at the hands of the Boston Celtics, LeBron James received a 'big sales pitch' from Mayor Michael Bloomberg today.
'Rumors are that both the Knicks and the Nets would like to get him, I would never take sides in that, but I think it would be great for New York if he would come here,' Bloomberg said, speaking on WOR.
Bloomberg was not the only one trying to entice James to return to New York.
LeBron's Cavs were knocked out of the playoffs with Thursday's 94-85 loss to the Celtics, meaning James may have played his last game for Cleveland. He becomes a free agent on July 1. James says he's 'made no plans.'
Would you want LeBron James to come to New York? Should he sign with the Knicks or Nets? Post your thoughts below.