How the St. Vincent's Urgent Care Center Will Work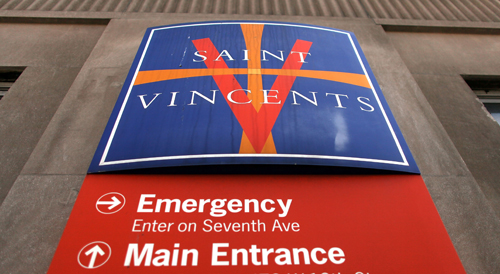 Even as St. Vincent's Medical Center in Greenwich Village is shutting down, it's being reinvented. Gov. David Paterson has announced that an urgent care center will be opening in a small part of the large complex. This urgent care center will be open 24/7, and it will be staffed by emergency physicians and nurses -- but will be nothing like an emergency room. It will be operated by a hospital that itself has been struggling.
WNYC's Fred Mogul answers some questions on the latest developments:
So this new center will be run by Lenox Hill Hospital, on the Upper East Side. That's pretty far from Greenwich Village. Why Lenox Hill?
It's not completely clear yet, because the state hasn't released the bids for the grants that are making the deal possible. But presumably it had something to do with Lenox Hill offering to provide the greatest number of hours the greatest amount of service and requesting the least amount of taxpayer dollars to do so.
So will these patients in Greenwich Village be heading to the Upper East Side for treatment?
Maybe. And this is where it starts to get tricky. Lenox Hill, as you said, is struggling. It's a stand-alone hospital in an area that has a number of very large, very modern, very competitive hospitals, like New York Presbyterian Hospital - Cornell, Sloan Kettering, and NYU, a very crowded place, very competitive hospital landscape. So, Lenox Hill has been negotiating a merger with North Shore-Long Island Jewish, another very large hospital system, that has a big presence in Nassau County and Queens, but not yet in Manhattan. And it's this combination of Lenox Hill and North Shore that the state is interested in bringing into the mix where St. Vincent's used to be.
So what will this new urgent care center do? We talked about this a little last week, and it wasn't yet clear. Is it clearer now?
Clear as mud. But a picture is starting to emerge. The grants haven't been released and the specifics are being worked out. But the hospital spokesman told me that there will be an emergency physician and an emergency nurse, but their main roll will be to treat pretty minor things. Maybe up to and including some stitches. But otherwise it will be stabilizing people and transferring them elsewhere, to other emergency rooms.
Broken bones? Will they be set there?
I asked that, and the hospital spokesman said you'd probably want an orthopedist to set those bones – so that means transporting elsewhere.
Well, this area, Greenwich Village, is known for its nightlife -- not to be too graphic, but if you drink a little too much, pass out, use the wrong kind of mix-and-match drugs, what if you needed to get an emergency intervention, get your stomach pumped? Is this something this urgent care center could do?
It's still being worked out, but according the spokesman, getting your stomach pumped, quite possibly, they're in the urgent care center. Drug overdose? Maybe a transfer.
You mentioned the Lenox Hill-North Shore Long Island Jewish cooperation. I gather North Shore will run the ambulances. How will that work?
Well, these won't be ambulances dispatched when you call 911. They'll be ambulances positioned at the urgent care center, on the St. Vincent's campus. And if you stumble in, and you shouldn't even go in the door, they should zoom you off to Bellevue. These ambulances will take you, like if you have a broken bone, they'll stabilize you. More like a shuttle.
So where will these ambulances take these patients?
Well, they're working out the protocols...they say, 'the most appropriate place,' but you do have to wonder if that will be dispropriatnly Lenox Hill, far away in the Upper East Side. Could be St. Luke's Roosevelt, Beth Israel, any number of places that are closer. You're allowed to request a place if you're conscious and have an opinion.
Who makes these decisions? You call 911 and an ambulance picks you up, who makes the decision where to take you? And triages you and decides that this is an urgent care thing or its worthy of an emergency room?
In the 911 system, that's independent, they're unlikely to take you to this urgent care center, but they have a moving target formula based on the nearest ambulance and how full a given emergency room and the information you give to a dispatcher.
So, what we're taking about in this scenario with the urgent care center is walk-ins?
Exactly.