Thousands Turn Out for Elevator Mechanic Apprenticeships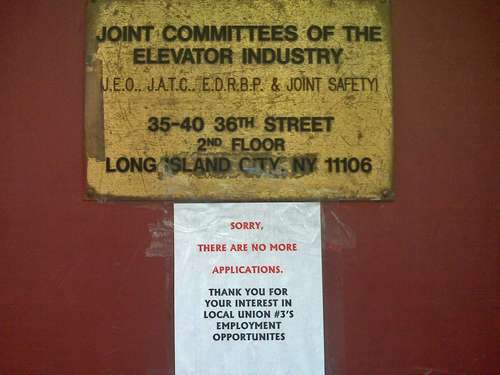 Here's a sign of the tight job market: an estimated 2,000 people waited in front of an employment office in Long Island City today hoping to be first in line to apply for 100 elevator mechanic apprenticeships. Some had been waiting since last Friday.
Sal Catania, 32, got one of the coveted applications. The former construction worker has been out of work for months and lives in Staten Island. He supports a wife and son.
'This is not a job. It's a career and this is what people need, because right now everybody is hurting,' Catania says.
Apprentices with the union earn $14 to $16 an hour, and full-fledged elevator mechanics can make up to $40 an hour.
Nicholas LaGuardia works with the union that's hiring and says jobs in skilled trades, like elevator repair work, can't be outsourced and so they've been somewhat protected in this tight job market.
'There are over 2,000 different apprentice programs around the country and people are realizing it took us out of a depression, it helped us after WWII, and it will help us through this if we give out jobs that remain in this country,' LaGuardia says.
Those waiting in line for the applications came from across the region -- Connecticut, New Jersey, upstate New York, and the five boroughs. The line wrapped around the block, with some setting up tents and barbecue grills.
Many were turned away. Currently, the city's unemployment rate is 10 percent.