Pin Stripes Visit the White House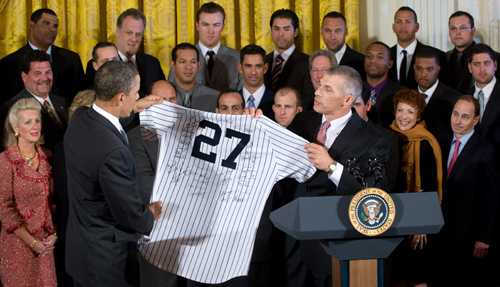 President Barack Obama welcomed the Yankees to his home turf in a ceremony in the White House East Room to celebrate the Yankees' 2009 World Series championship.
The president told the team his hometown favorites, the Chicago White Sox, would have won more titles had they had Mariano Rivera as a closer.
He went on, saying that the Yankees begin each year expecting to win it all, which makes them an easy team to love, and hate.
'For a White Sox fan like me it's painful to watch Mariano's cutter when it's against my team. Or to see the Yankees wrap up the pennant while the Sox are struggling on the South Side,' Obama says.
He kidded the Yankees for taking nine years to win their 27th World Series championship, saying the Cubs would settle for a drought like that.
The Yankees began their day in the nation's capital with a visit to wounded soldiers at the Walter Reed Medical Center.