King Tut Returns to New York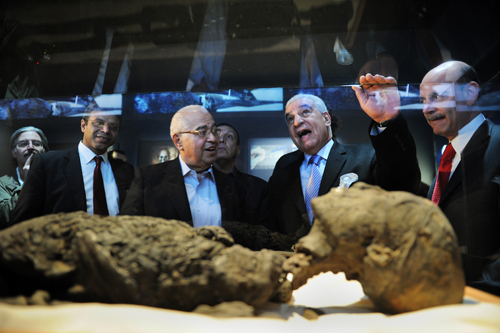 King Tut is back...and he's visiting Times Square.
The boy king stirred a sensation at the Metropolitan Museum of Art 31 years ago.  This time, he's in an exhibit at the Discovery Center in Times Square -- and an Egyptian official is unhappy with the decision to bring the splendors of King Tut's tomb there.
At a preview of the exhibit, Dr. Zahi Hawass said the glittering items deserve a return engagement at the Metropolitan Museum of Art, where the blockbuster exhibit 'Tutankhamun  and the Golden Age of the Pharoahs' drew nearly two million visitors in 1979.  He says the Discovery Center venue is 'commercial.'
Organizers say their choice of sites was driven by funding issues.
The exhibit contains 130 artifacts, including 50 from the boy king's tomb.  There are also new details about what may have caused Tut's death, based on recent DNA research
New York City is the last stop of a U.S. tour.