Modern Macombs Dam Park Opens Next to Yankee Stadium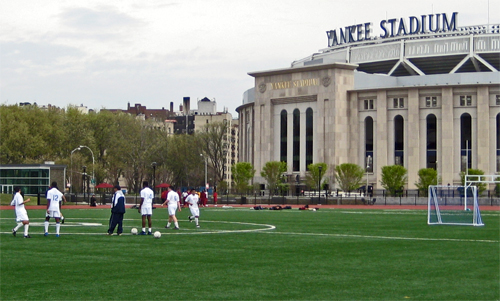 After years of waiting, Bronx residents now have an upgraded, $35 million Macombs Dam Park to be proud of.
The state-of-the-art park is built on the rooftop of the two-story Ruppert Plaza Garage, directly across the street from the new Yankee Stadium, which opened last year.
'It's beautiful out here,' says Monique Bonilla, who lives in the area and thinks the park is a big addition to the neighborhood. 'And our children have a place to run, play ball, and just enjoy themselves.'
The community has been waiting for the day when they could use the park since 2006, when the Yankees broke ground on their new stadium. The ball club and local politicians promised the new stadium would bring new jobs, new development, and new parks to the area.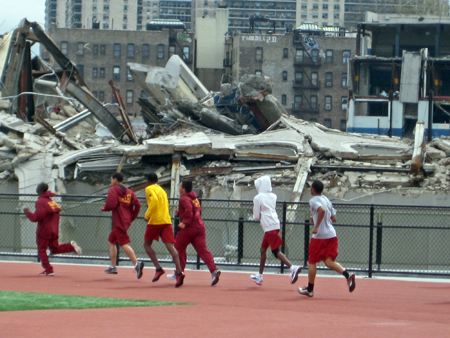 But, the new stadium was built on the site of the old Macombs Park, meaning local residents suddenly found their stand-by outdoor spaces had become a construction site.
'Promise made, promise kept is what we're really excited about. And so I guess it makes up for some of the waiting, pain, sense of loss,' says Earl McKay, a member of Community Board 4. He says the process hasn't been easy, but the community got a better park in the end than they would have if the Yankees had gone elsewhere and the old park had just been fixed up.
The park was funded by the city as part of a total $195 million investment to build new parks through the Yankee Stadium Redevelopment Program.