Today in History: Works Progress Administration Passed by Congress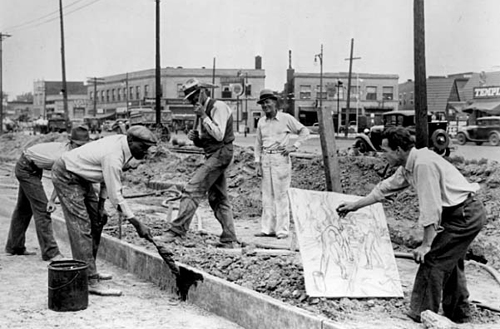 On April 8, 1935, Congress approved President Franklin D. Roosevelt's Works Progress Administration. The program was the jewel of the New Deal, and led to the creation of 8.5 million jobs for Americans during the Depression. When Roosevelt took office in 1933, the country's unemployment rate was 24.9 percent. The program addressed the desperate poverty that gripped much of the nation and the rickety infrastructure plaguing development. But the program also deployed artists to create murals, paintings, write poetry, local guide books, and to document the countryside and record the folk songs of the time.
An example of those recordings can be heard in this documentary of field recordings created by Charles Todd and Robert Sonkin of the College of the City of New York, which aired on WNYC in 1942. Like the Alan and John Lomax, who recorded folk songs, this is a collection of recordings from migrant labor camps in California featuring migrants from Oklahoma--called 'Okies' at the time.
Here in New York, various murals were created throughout the city. A partial list can be found here.
There were over 2,000 posters created between 1936 and 1943, on subjects as diverse as public health, art exhibits, educational programs, and tourism. The Library of Congress has about 900 of them in its collection; here are some of the posters created for various programs in the city:
Images courtesy of the Library of Congress, Prints and Photographs Division, WPA Poster Collection
The WPA also deployed musicians and orchestras to perform across the country in rural communities. Here is a recording from the WNYC archive of the New York Civic Orchestra made in 1939.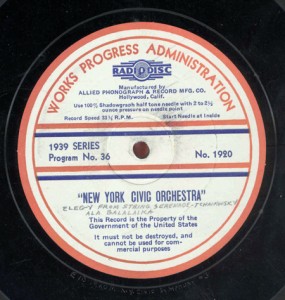 Famed photographer Walker Evans, best known for his collaborative project with writer James Agee and their book 'Let Us Now Praise Famous Men,' shot these photos after that period, in 1938. Most of these images were shot around East 61st Street.
Special Thanks to WNYC's archivist Andy Lanset.