Help Us Find WPA Public Art in New York City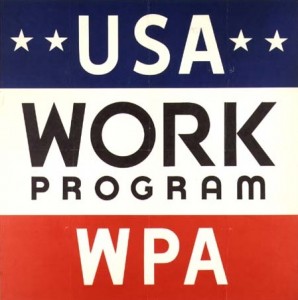 Tomorrow is the 75th anniversary of the passage of President Franklin D. Roosevelt's Work Progress Administration. In addition to putting 8.5 million Americans to work, the WPA was instrumental in creating public art across the country. Much of it has been removed over the years or moved to private galleries. If you have a favorite piece of WPA-era public art in the city, we'd like to hear about it. Comment below, or email the location and any images you have of that art to newstips@wnyc.org.
Check back tomorrow for archival recordings of documentaries and music commissioned by the WPA.