Bells of Remembrance for Moscow Deaths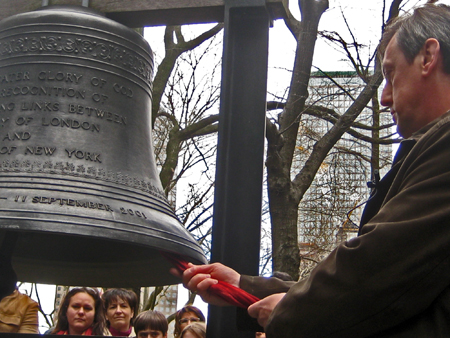 The "Bell of Hope" rang 20 times shortly after noon today in memory of the victims of the Moscow suicide bombings that killed at least 39 people on Monday.
Religious leaders and Russian officials gathered in the backyard of Saint Paul's Chapel, by the World Trade Center site, to ring the famous bell, symbolically rung after major terrorist attacks.
Calling terrorism an "international plague," Russian Consul General Andrey Yushmanov says he was in New York when he read the news of the bombings.
"My first feeling was shock," he says. "It's always hard to believe that such terrible crimes can happen at all." He added that it was especially hard for him, a native of Moscow, to digest the news. "A lot of my friends go through these underground stations everyday, and of course, I worried a lot about their lives. Thank God, all my friends are safe."
Yushmanov and the deputy consul general attended a prayer for peace inside the church after ringing the bell.
The "Bell of Hope" was given to the City of New York by London's mayor in 2002 as a tribute to 9/11 victims.