Today in History: The Triangle Shirtwaist Company Fire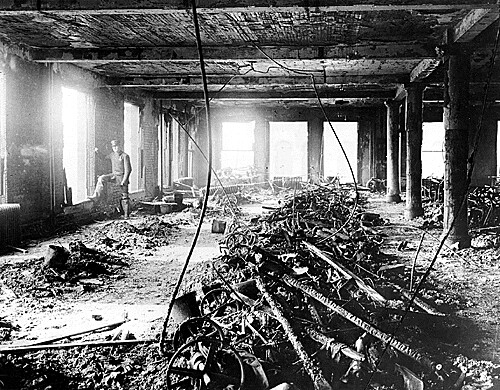 THE FIRE
On Saturday afternoon, March 25, 1911, a fire broke out in the Triangle Waist Company, a garment manufacturer in lower Manhattan. As workers would soon realize, the building's fire escapes were deficient, and exit doors had been locked by the owners. The fire trapped those working on the three upper levels of the company's 10-story building, located at the corner of Greene Street and Washington Place. In less than twenty minutes, 146 immigrant workers, mostly young Jewish and Italian women, died. Some of the workers died as they jumped out of the building in a desperate attempt to escape.
Here is one of the survivors, Pauline Pepe, speaking at a commemoration in 1986:
Read an account of the fire in The New York Times;, retrieved by the Triangle Fire Online exhibit, a Web site hosted by the Kheel Center for Labor-Management Documentation and Archives at Cornell University's School of Industrial and Labor Relations.
Click on the map below, created by Ruth Sergel of Street Pictures, to read about each victim, and see where they lived.

View Triangle Factory Fire - Chalk in a larger map
THE IMPACT
The fire brought to light the terrible working conditions endured in the many sweatshops of the garment industry in the beginning of the 20th century.
"I am quite certain that the conditions under which we worked and which existed in the factory of the Triangle Waist Co. were the acme of exploitation perpetrated by humans upon defenceless (sic) men women and children — a sort of punishment for being poor and docile," Pauline Newman, a former "cleaner" at the Triangle Waist Company, wrote in 1951.
Isaac Harris and Max Blanck, the two owners of the factory, were prosecuted for manslaughter in the first and second degree and were acquitted by a jury.
But the outrage sparked by the tragedy led New York State's governor to establish a safety investigative commission. And following the commission's findings, 36 new safety laws were enacted, paving the way for a better protection of workers.
THE LEGACY
Every year, the Triangle Fire is commemorated in New York City as a turning point in the history of worker's rights and organization. 'New York enacted many of the first significant worker protection laws in the nation,' State Labor Commissioner Colleen Gardner said on March 23. 'We honor the women who died at the Triangle Fire and stay true to our fight for workers' rights and workplace safety.'
The apparel industry remains New York's largest manufacturing sector, though it has declined precipitously in recent decades.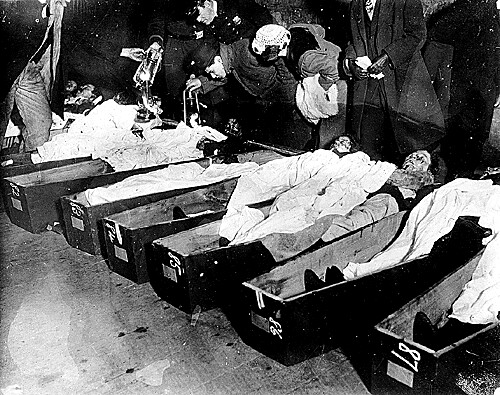 Special thanks to WNYC's archivist Andy Lanset.