Reporter's Notebook: Hoboken Floods Attacked My Car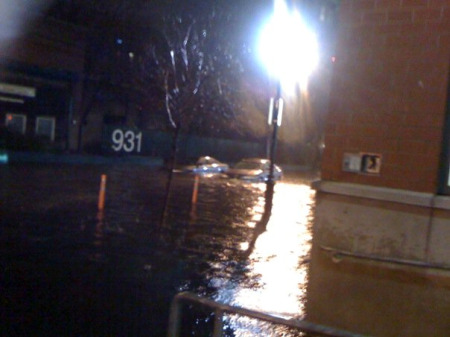 I think we should have stayed home. But during the rain storm last Saturday my husband and I got into our car and started to drive to a restaurant near our home in Hoboken, NJ.
A mere six blocks later Amar turned off the radio and said ominously, "Oh oh, I think we are in the waters."
Our car died, and within seconds we were surrounded by three feet of flood waters. As much as I would like to say I kept my cool, I didn't. Within a minute my brown boots felt cold.
I called 911 but...no answer.
Amar was able to get through. As he explained that we were stuck in rising waters, I was screaming that I was going to die in the background.
The operator's advice: "Just leave the car and get out and walk."
I reminded Amar that it's sewage water we were about to step into. "Let's go,' he said, nodding. 'The water is rising." Indeed it was already a few inches above my waist.
We squished through three feet of water and made our way to a nearby grocery store. I hailed down the Hoboken volunteer ambulance and convinced them to drive us home.
Calls to the authorities made it clear our poor Acura would not be saved. Hoboken was so flooded the tow trucks refused to come. The man from the insurance company said, "Ma'am your car will never survive a night in the three feet of sewage-filled flood waters. " I knew he was right.
So our car has been shipped off to an auction garage. We await the verdict on damages.
The New Jersey Journal grabbed a photo of the car.
The experience led to my report on storm cleanup in Hoboken. And while talking to city officials for the story I learned the following advice:
* Never get out of your car. That's according to Angel Alicea, the director of Public Safety for Hoboken. Call the local police department and they will come and help you, because you can walk into a manhole and seriously hurt yourself. (Of course, that does not jive with our experience or what the 911 operator said.)
* Barricades can get blown away and moved. Don't count on signs to warn you there is danger ahead.
* For Hoboken specifically, Philip Revees from the North Hudson Sewerage Authority says: 'Avoid flood-prone areas which include 3rd and Jackson between 3rd and 4th street, Monroe Ave and 8th street and finally, where we were, 9th and Madison.
* And the best of all: when there's a big storm, just stay at home.