No 'Calumny' Intended--Just a Friendly Spelling Bee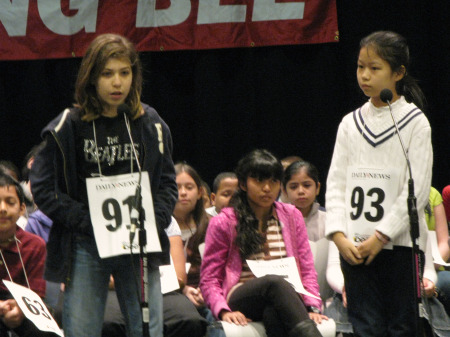 'Could you please repeat the word?' asked 10-year-old Arvind Mahankali of Forest Hills Montessori School.
The word was repeated.
'C-A-L-U-M-N-Y. Calumny,' Mahankali said. And with that, he beat 51 other public and private school students at the 46th Annual New York City spelling bee today.
Other tough words included: yamen (the headquarters or residence of a Chinese government official or department), sortie (a sudden issuing of troops from a defensive position against the enemy), and the ever-tricky hippopotamus.
Mahankali and yesterday's winner, Thomas Dumbach, 13, of Hunter College H.S. (who won with the word suasible) will both compete in the Scripps National Spelling Bee in Washington D.C. in early June.
Think you can beat a 5th grader? Listen to some of the words from today's competition below. The answers are at the bottom of the page.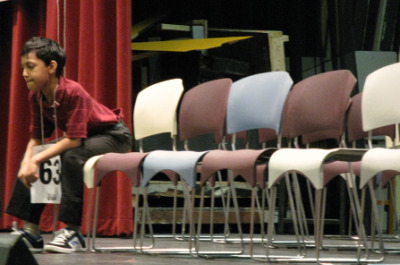 Arvind Mahankali, winner of the 46th Annual New York City spelling bee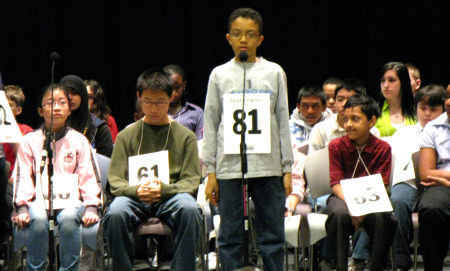 Bronson Rocha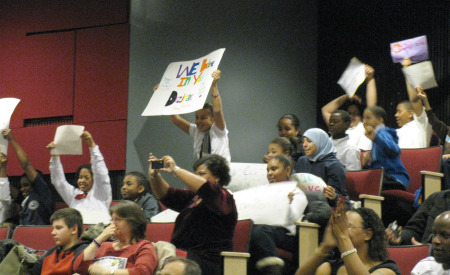 A cheering section from PS 160 The Walt Disney School, cheer for a classmate.
Answers to the spelling quiz: contrapuntal, graupel, quinine, sortie, sequin, malihini, palette, vulcanize, pochismo, perfidy, synergy