Monserrate Defends "Sí, Se Puede," DNC Says No You Can't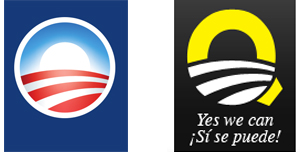 The Democratic National Committee wants former Queens state senator, Hiram Monserrate, to stop using Barack Obama's 2008 campaign logo. The DNC has asked Monserrate to cease using campaign material with a circular, striped image with the slogan 'Yes we can,' in English and Spanish. Monserrate says the image is not the letter 'O' and that the DNC should take a close look.
'This logo is similar to the slogan that they used, but slightly different because the logo actually is a 'Q,' which stands for the great borough of Queens. If folks had really analyzed it, they would have seen it,' Monserrate says.
Monserrate is running in a special election next week in an effort to win his seat back. He was expelled from the state Senate last month after a misdemeanor domestic assault conviction. Fellow Democrat, Assemblyman Jose Peralta, is also running and has the support of the city's party leaders.