If you hated the lawn chairs in Times Square...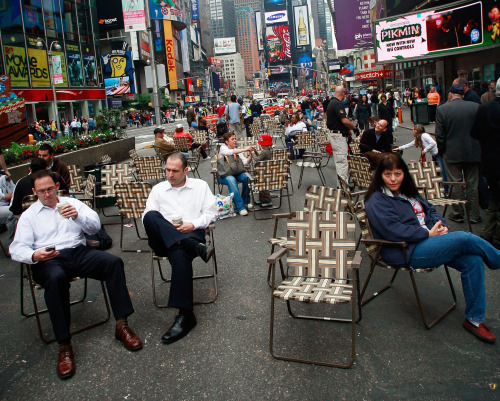 now you have a chance to submit your designs for the five new pedestrian plazas stretching along Broadway from 47th to 42nd Streets. New York City Transportation Commissioner Janette Sadik-Khan tells Brian Lehrer the city is launching a design competition for people who live or work in New York to design the squares pending a more permanent city installation in 2012. Designs are due by April 16, the winner gets $15,000. The request for proposals is here.
The lawn chairs were pretty widely seen as tacky, and the metal cafe tables that replaced them weren't much loved either. But even though some motorists -- especially taxi drivers -- think the closure of parts of Broadway to cars is the worst thing Mayor Bloomberg has ever done, businesses like the dollars that lingering tourists and workers bring in. By the way, we'd like to share your designs with other listeners. If you're participating in the city's RFP, or even if you're not, post your designs to our Flickr page.