Got a Ride? Share It: Taxi Ride Share Starts Wednesday
Tuesday, March 02, 2010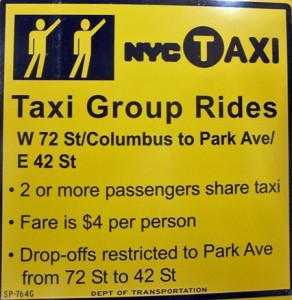 For commuters tired of cramped subway and bus rides or paying full fare for a taxi, there are now other options for getting from point A to B. Starting Wednesday, the Taxi and Limousine Commission is rolling out an experimental taxi-sharing program.
At designated stops in Midtown and along East and West 72nd Street, up to four riders can share a ride for $3 or $4 apiece. At first, the ride-shares will only be offered Mondays through Fridays from 6 a.m. to 10 a.m. See the map below for taxi pick-up locations.
New stands are expected to open later this year, including one at LaGuardia Airport. The taxis participating in this program will have specially marked signs.
Below is a map with the pick-up locations.

View Share a cab in a larger map
More in:
Stephen Nessen reports for the WNYC Newsroom and can often be heard live on Morning Edition.