Bathroom Breaks for Vendors: Make it Quick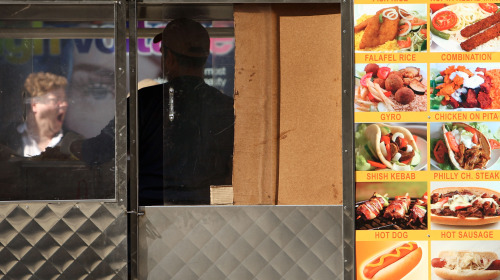 What's a food vendor to do when he or she has use the bathroom? Most of them slip into a cafe or restaurant lavatory and try to return to work quickly. But one peanut seller near City Hall, Mohammad Shirajul, was too slow and had his permit taken away. That has provoked howls of protest from other vendors.
Sean Basinski of the Urban Justice Center's Street Vendor Project blames newly revised regulations that forbid unattended carts but make no allowance for bathroom breaks.
'Bathroom access is already a problem for vendors, because even the best vendor often has a hard time getting away from the cart,' Basinski says. 'This just makes it worse now if you're going to lose your business because of it.'
The Department of Health says it doesn't want street vendors leaving food unattended for long periods of time and so they're framing it has a public health issue. Although there is a 'grace period' in which vendors can, ahem, do their business, that amount of time is not explicitly defined. The Department of Health is considering making it more clear.
The peanut vendor that provoked the bathroom furor says that, on the day he lost his license, he was away from his cart for about half an hour because of long lines. A health department spokesman says its inspectors do allow for bathroom breaks, but in this case the vendor was away for too long.