Race to the Top: The Annual Empire State Climb
Participants in the annual race to to top of the Empire State Building may be feeling like they're trapped in the movie 'Groundhog Day.' For the fifth year in a row, 25-year-old Thomas Dold of Germany won, reaching the 86th floor observation deck in 10 minutes and 16 seconds. He's the third person to win five times.
Roy Lamendola, 72, from New Jersey finished second in his age group at 22 minutes and 1 second. 'It was okay to the halfway mark, then you really start to feel the exhaustion, gasping for air,' Lamendola says.
He plans on doing it again next year because, 'When you finally come onto the observation deck and you get that fresh air, it's a great feeling.'
Melissa Moon, 40, from Wellington, New Zealand took top honors among the women, at 13 minutes and 13 seconds.
Some stats on the race:
The climb is 1,050 ft., or approximately 1/5 of a mile.
There are 86 flights, or 1,576 steps (18-19 steps per flight).
The race has been held 33 times since 1978.
The Empire State Building is 1,454 feet above Midtown Manhattan.
Nine minutes and 33 seconds is the fastest anyone has made it to the top (Paul Crake of Australia in 2003).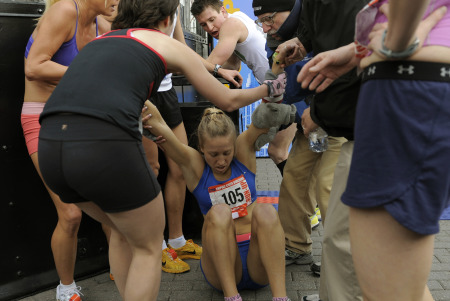 Listen to a montage of voices from the race, including Lamendola; Larry Parker, 46, from Amityville, N.Y.; Scott Strider, 50 from Hollywood, Fla.; and Kacie Fisher, 25, from Daytona Beach, Calif., collapsing from exhaustion as she passed the finish line. She came in 20th in the women's group: