How to Avoid a Trashed Umbrella Today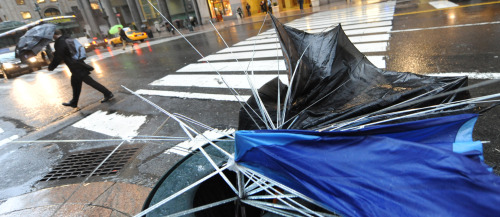 When it rains in the city, many New Yorkers seem caught off guard. They scramble to the nearest bodega or street vendor and buy one of those folding black umbrellas. That's a problem, says Peggy Levee, owner of the umbrella shop Rain or Shine in midtown. She says in heavy winds, like today, you need an umbrella with at least eight ribs. 'You're much better off with a full size, a stick umbrella, versus a folding umbrella. You definitely don't want a compact or mini umbrella,' Levee says.
As far as materials, wood and fiberglass are preferable to the cheaper aluminum umbrellas. 'Those are the ones you're going to see littered in the street by this evening,' Levee says.
She says department stores used to carry high-quality umbrellas. Nowadays, they're mostly relegated to men's shops or specialty stores.
Where did you buy your umbrella? Share your tips and stories below.