Albany Under Re-Construction? Paterson Aims for the High Ground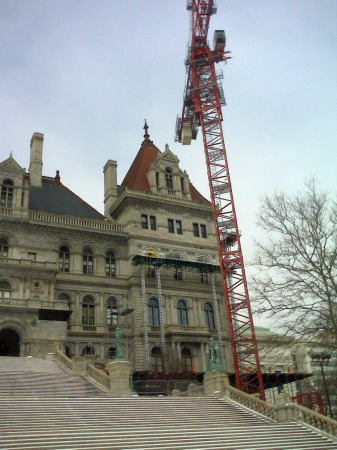 While huge ice chunks float down the nearby mighty Hudson, frigid temperatures keep the construction scaffolding around the Capitol's East Wing empty. An ambitious East Wing project includes plans for a new skylight.
Meanwhile, inside the building, competing ethics reform proposals are the subject of corridor buzz. Gov. Paterson's proposals to radically reform the way state politics are financed and to impose term limits for all state-wide and legislative elected officials are raising the bar for any counter proposal the Senate or Assembly might produce.
So far, response has been mixed because the governor needs legislative buy-in to make any of his reforms come to pass, and conventional wisdom is holding that it's not going to happen.
In a statement, Speaker Sheldon Silver tried to grab some of the reform glow by noting Paterson's recent conversion to supporting public campaign financing, something the Speaker has carried the torch on for a decade.
For his part, Republican Senate Leader Dean Skelos left the door open to the term limit proposal in Paterson's plan.
Meanwhile, the governor is getting points from good government groups for catching the legislative leadership off balance by rolling out his plan even as they were mired in behind-the-scenes drafting of their version of the 'Reform Albany Act.'
It was a fast break up the middle for Paterson, the 'accidental' governor who spent 20 years in Albany and is now running against it.