Using Food Stamps in the Bronx

The Bronx has the highest proportion of food stamp recipients in all the five boroughs. According to city statistics, more than 400,000 people use food stamps in the borough –- 30 percent of the population. Since 2007, the Bronx has seen a 26 percent increase in usage of food stamps, and advocates would argue there are thousands more who likely qualify for the benefit but aren't receiving it.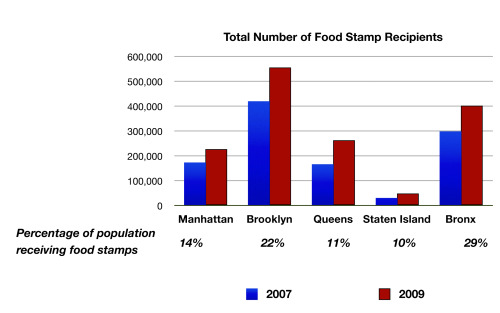 Statistics are from New York City's Human Resource Administration and US Census Bureau.
WNYC's Cindy Rodriguez visited Part of the Solution, or POTS, a Bronx non-profit where people can apply for the federally funded food program. To hear Rodriguez's full feature, listen here:

Heather Hargraves schedules food stamp appointments at POTS. One of her client's is John Torruella. He's homeless, 53 years old, and his benefits just got cut off. Hargraves must now figure out why.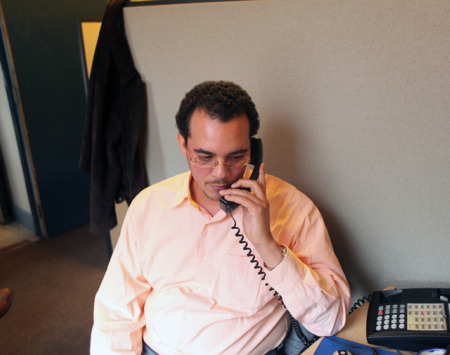 Each Friday, Fabio Martinez from the New York City Coalition Against Hunger comes to POTS to help Hargraves process food stamp applications. He sees people late into the evening. He says sometimes they cancel but most of the time they show up.
Food stamps have been good for business at the Pioneer Supermarket down the street. One of the cashiers says 75 to 80 percent of customers use food stamps to pay for their groceries. Only cold foods can be purchased with food stamps. Hot foods, detergents, shampoo, beer, and cigarettes are some of the items food stamps can't buy.
Customer Milagros Arroyo (above) and Joycelyn Sarita were shopping separately at Pioneer. Both women just started receiving food stamps after being laid off from their jobs. Sarita had been employed as a medical assistant at a doctor's office, but that practice closed down. Arroyo was working in the garment district.

Samuel Estrada does janitorial work at POTS on a volunteer basis. He credits the non-profit with getting him $160 in food stamps each month. He carries a copy of the card in his wallet just in case he needs to show identification. He doesn't carry the actual card because he's afraid of losing it. Pete, a homeless man who did not want to give his last name, was waiting to eat a hot meal of beans, franks, and sauerkraut at POTS' soup kitchen. He eats there nearly everyday and says his $200 monthly allotment of food stamps often runs out before the end of month. Mostly, he says he buys deli sandwiches with his food stamps.