The Politics of Math: About Those National Tests...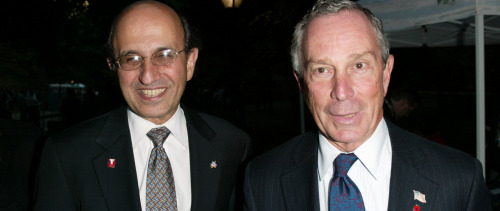 In his campaign for re-election, Mayor Michael Bloomberg pointed repeatedly to rising test scores among New York City public school students as proof that he had reformed the education system. Scores did go up dramatically this year on state exams. And Bloomberg predicted city scores would also rise on this year's national math exams.
'We're optimistic that we will beat the state and show real progress,' he said during the second mayoral debate in October.
Not so fast
The federal government released the math scores today for cities including New York. (State results came out in October but scores for 18 big urban districts were held until now.) The new numbers show city students made no 'significant' progress, in the words of the National Center for Education Statistics, which is in charge of the test.
There's a 500-point scale for scores on the National Assessment of Educational Progress, or NAEP. In New York City, average fourth-grade scores went up one point since the last exam in 2007. Average eighth-grade scores went up three points. That's a little bit more than the state average, so Bloomberg's prediction about city students beating the state technically came true. But it's pretty much the same pattern districts saw throughout the country: fourth grade was flat, while eighth grade went up a little.
Not all students take the national exams. Instead, they're given to a sample of students in each district that's supposed to reflect the population. So when NAEP looked at the three point increase in eighth-grade scores in New York City, it concluded that was not a 'significant' difference since 2007 based on sampling and methodology.
Does that mean Bloomberg was wrong, and there wasn't 'real progress'?
Schools Chancellor Joel Klein argues the reforms haven't stalled at all. He claims it's more important to look at long-term trends. During a Q&A with reporters, featuring a slide show full of charts and graphs, Klein repeatedly pointed to data showing NAEP scores for city students went up consistently between 2003 and 2007, at an even greater rate than the state and national averages.
'Given the nature of sampling you want to take into account multiple years, look at trends and things like that,' he said.
But even with these gains black and Hispanic students continue to score far behind white ones -- a gap that hasn't changed since 2003. On the eighth-grade test, black students in New York City had an average score in 2009 that was 34 points lower than that of whites. In 2003, this gap was 36 points. The white/Hispanic gap in 2009 was 35 points -- an increase over the 29 point gap in 2003.
On the fourth-grade test, blacks averaged 26 points lower than whites compared to 26 points in 2003. Hispanics averaged 23 points lower than whites compared to 24 points in 2003. New York University Education professor Diane Ravitch, who was an assistant education secretary during the first Bush Administration, told WNYC's Brian Lehrer 'it's fair to say looking at these numbers there has been no change in the achievement gap. There has been improvement in the six-year period, none in the last two years.'
Chancellor Klein argues that the gap exists because the scores for all students went up, meaning they remained on parallel tracks. But he acknowledges there's work to be done.
State vs. National
There was also a huge discrepancy between how city students scored on the national and state exams. More than 80 percent of city elementary and middle school students passed the New York State math exams this year. But only 35 percent of fourth graders were proficient on the national test, and just a quarter of eighth graders. That's actually higher than the average for big cities. New York continues to do better than Chicago, Milwaukee, Philadelphia, and others. Detroit is at the bottom.
The gap between state and national scores led the teachers union to dismiss the state exams as meaningless. The union has been fighting Mayor Bloomberg's attempt to measure teacher performance partly with test scores, and has also argued that the city is relying too heavily on these fluctuations in deciding which schools to close.
'We have had eight years of relentless focus on test prep for the state examinations that has led to sharply rising scores on those tests. But the NAEP, the most respected test, shows that our students have actually made very small gains," United Federation of Teachers President Michael Mulgrew said.
"It's time to admit that the DOE's education strategy is not working. The system is letting down a whole generation of kids.'
Mulgrew called for everyone to work together on a 'strategy that will lead to real learning.' The union is in the midst of contract negotiations with the city.
Meanwhile, the state has committed to raising its standards and Chancellor Klein says he supports that change. The Obama administration wants national standards so states can't mislead the public into believing most students are passing what are really watered-down exams compared to the national tests.
But Klein still argues that the success in New York City is real -- even when looking at state exams. He notes that city students took the same exams as kids in the rest of the state, and their scores went up even more this year than the statewide average.