Battle Brews Over Gowanus Canal Clean-Up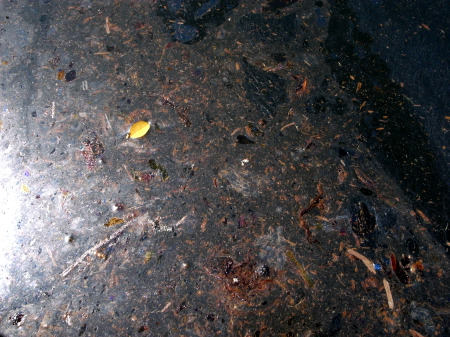 The Gowanus Canal in Brooklyn is a polluted industrial waterway, and it has been for most of its 140 years. Bill Appel found this out after buying a house in Carroll Gardens in 1978.
'Woke up to open windows in the early spring, and I said to my wife, what in God's name is that odor?' Appel says. 'And she said, I don't know but find out. I went outside and asked a neighbor, and he said, "Oh that's our Gowanus Canal." And I said, "Is it this way all the time?" And he said, "This is one of the better days."
So you'd think Appel would have been pleased when the federal Environmental Protection Agency announced last April it was thinking about putting the Gowanus Canal on its National Priorities List -- that is, make it a Superfund clean-up site. He was not.
'I'll be honest with you, I'm 64 and I guarantee you, if it goes Superfund, I won't see any development along this canal,' he says.
Development…along the Gowanus? It's ready to happen. Just south of where Appel and I are standing on the Carroll Street bridge are two vacant lots where Toll Brothers, the luxury home developer, wants to build 450 units of housing. Further down the canal, another developer plans 700 units. Appel is the executive director of the Gowanus Canal Community Development Corporation. He dreams of a Brooklyn version of San Antonio's River Walk, with a public esplanade, outdoor cafes, shops, and affordable housing.
In order for this dream to become a reality, the Gowanus needs to be cleaned up.  Everyone agrees on that. But how the clean-up gets done is the subject of an intense debate. The federal EPA says it has the authority and experience to handle what will be a complicated cleanup. The city is arguing that Superfund comes with super risks, and it's proposing an alternative. And the people living around the Gowanus Canal's sluggish, pea-green waters are lining up on both sides.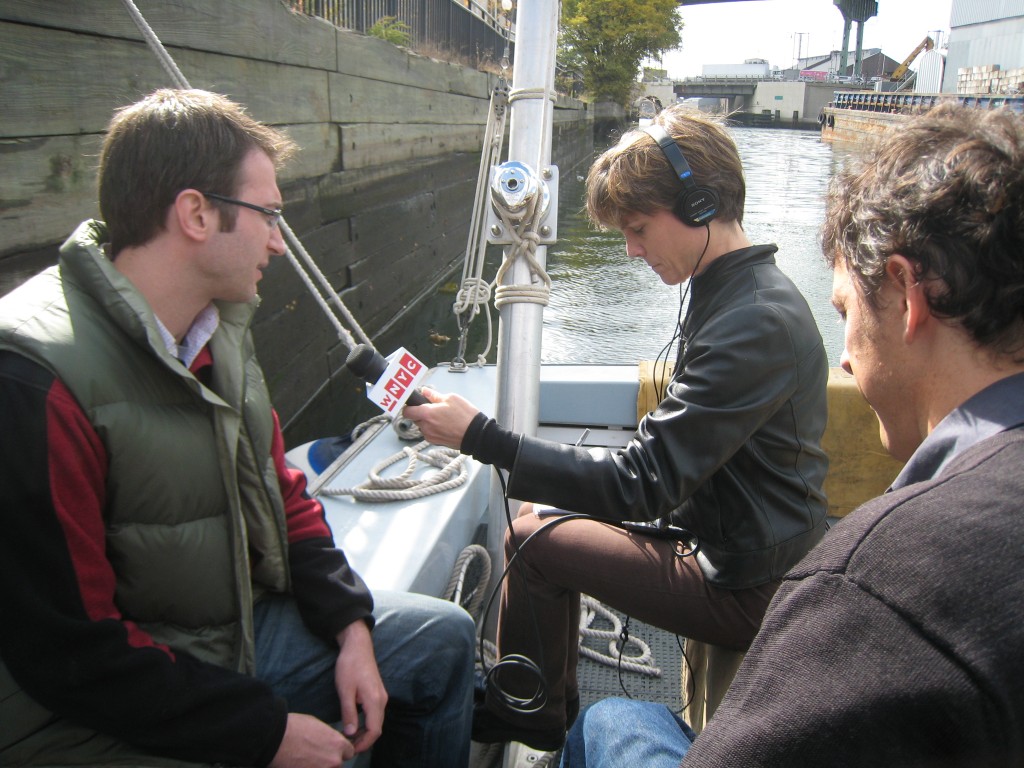 I'm in motorboat with Josh Verluen, a staff attorney with environmental group Riverkeeper. The environmental group keeps tabs on the Gowanus, watching the activities of the few industries left along its banks.
'We quite frequently see very large sheens of coal tar waste in this part of the canal,' Verluen says, 'sort of a rainbow colored hue which have this kind of textural quality. It almost looks like broken glass…. You can really see…'
'You can smell it,' I say.
'You can really smell a kind of petroleum…a very distinct smell,' he explains.
The Gowanus Canal's problems are three fold. There are pollutants, such as coal tar, in its sediments, its water, and in the soil of the industrial sites along its banks. Tests have also shown the presence of PCBs, lead, mercury and benzene in the canal's mud. The Gowanus also routinely swells with overflow human waste from the city's sewers, like this catch basin near Butler Street at the end of the canal. Superfund would only clean up the canal's sediments. Even so, Riverkeeper's Josh Verleun believes Superfund would spur city and state officials into action on the other problems.
'These issues have been known about for decades,' Verleun says. 'The fact that they still haven't been cleaned up is absolutely concerning. Now with Superfund we hope that that will light a fire under them.'
The city has already committed $175 million to improve water quality. But the Bloomberg Administration doesn't think Superfund is the fastest way to a cleaner Gowanus. The federal EPA traditionally goes after polluters to foot the bill for a Superfund cleanup. Cas Holloway, the city's new Commissioner of the Department of Environmental Protection, says that doesn't make sense for a 1.8 mile canal, with a long, industrial past.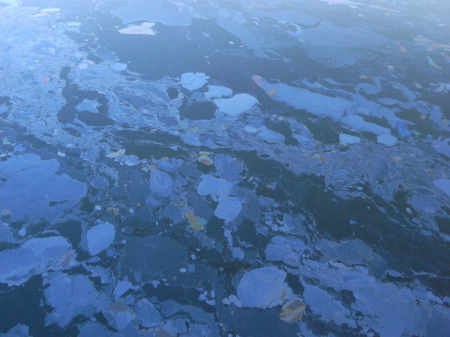 'Urban rivers, urban waterways, are historically among the most difficult to remediate under any circumstances, because you have a lot of potential parties, some of whom may have gone away a long time ago, and so there's nowhere to go to collect,' he says.
That, Holloway says, will mean years of costly legal battles between such potentially responsible parties as the oil giant Chevron and the utility National Grid. He thinks there's a better, faster way. The city wants to ask Congress to foot 65 percent of the bill, estimated to be between $300 million and $400 million. This would mean polluters' share would be smaller, and Holloway thinks they'll be more inclined to cooperate. Meanwhile, developers could move ahead with their projects without worrying about the well-documented downward effect a Superfund listing has on property values. Toll Brothers is one developer that says it will walk away if the Gowanus is Superfunded.
David von Spreckelson is project manager for the company's Gowanus Canal site.
'We've talked to banks, we've talked to insurance companies, and they don't have an intention of lending or providing insurance projects we'd need to do a development here,' von Spreckelson says. 'And that gives us great pause.'
Federal environmental officials, not surprisingly, defend Superfund. Walter Mugdan is the director of EPA's emergency and remedial response division for Region 2, a fancy way of saying he's the point man for the Gowanus Canal Superfund listing. He says Superfund is a well-understood, rigorous, 30-year-old process that holds polluters – not taxpayers – responsible for a cleanup. He says the city and developers are blaming the wrong guy when it comes to any "stigma."
'Any diminution of property values does no longer come, in my judgment, in the designation of a Superfund site. It comes from the knowledge that you have a problem. Where value comes back is if you clean that site up,' Mugdan says.
Mugdan also doesn't think the city's alternative plan would result in a faster cleanup, especially because it relies on Congress for most of the money. He says the city will still have to chase polluters to get them to pay--and go through the same lengthy process of determining how much toxic goo is there, who caused it, and how to get rid of it.
'It's a complex project, there's going to be a lot of back and forth among the engineers and scientists,' he says. 'That will happen regardless of who's in charge, whether we're in charge, or whether the city's in charge, or whether the corps of engineers is in charge.'
Mugdan says this proposed Superfund listing is the most controversial he's ever seen. He says requests for public comment produced more than 800 comments, including a 300-page tome from the Bloomberg administration. He says most of the comments are in favor of Superfund.
Among those supporters: Linda Marino and Margaret Maugenest.
'That's very colorful, pink and yellow and green,' I say.
'Yeah, it almost looks nice,' Linda says, laughing.
That's Linda. We're in her kitchen, a block from the canal, looking at photographs of its trademark oily sheen.
'Really, Lavender Lake…. It's beautiful,' Margaret says. 'I'll cross the canal and I'll see, like, a purple sheen. And I'm going – I'm an artist, right? – and I'm going, wow, pollution can be really beautiful.'
Maugenest and Marino are members of the group, FROGG – Friends and Residents of the Greater Gowanus. The group has papered the neighborhood of Carroll Gardens with posters of a little blue whale, and the message, "SUPERFUND ME." If some community members like Bill Appel worry that Superfund will mean he'll never live to see the birth of a whole new Gowanus Canal neighborhood, Maugenest says that's okay by her:
'I don't know why time is such a strong element here. This has to be done right. And decades? Fine. I've been here 25 years, I haven't seen anything. So in next 25 years, I see a little something, I'm happy! You know? This is science. And it has to be done the right way.'
So, which way, EPA? A spokesman says there's no timetable for an announcement.  Meanwhile, opponents are turning up the heat. Toll Brothers has lobbied state environmental officials, hoping they will rescind their Superfund request. And Mayor Bloomberg has taken the city's case all the way to the head of the EPA.